One should gamble within limits. Unfortunately, nobody told this simple truth to Henry VIII, King of England. He was likely too excited when gambling; otherwise, it is hard to explain how he contrived to lose bells of St Paul's Cathedral at dice.
Such legends make you enjoy cryptocurrency casinos as they allow you playing dice with satoshi, which are the smallest BTC units. The wolves are sated, and the sheep are intact: this kind of gambling will hardly hit you in your wallet.
Bitcoin dice is a very simple game of chance. Basically, the rules come to two things:
1. You choose the amount of your bet
2. You place a bet between 1 and 100, trying to guess whether the subsequent number would be higher or lower
Experienced gamblers appreciate Bitcoin dice for typical cryptocurrency advantages, such as:
Anonymous gambling
Cheap and fast transactions
Provably fair games
Best Bitcoin Dice Sites in 2023
Can't wait to play? We know that feeling, too. Below you will find a few cool online casinos where you can play Bitcoin dice.
---
TrustDice
When looking for a dice gambling website, you should definitely have a closer look at TrustDice.win casino. This is a crypto gambling website where on top of casino games, sports, crash games, and live casino games, you will be able to play Bitcoin dice games. The website of this online casino has an excellent design, and you will find it very easy to navigate on TrustDice.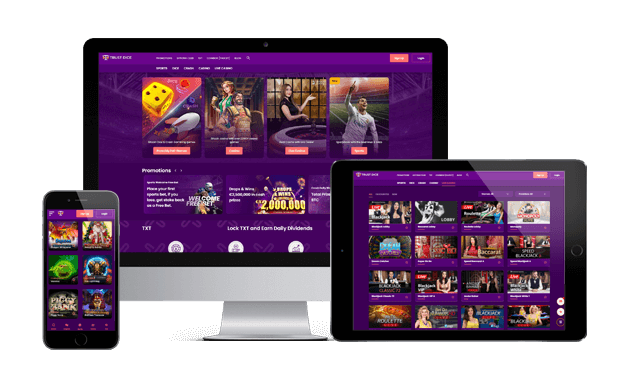 Here, you can claim lots of bonuses. To start, we will tell you that TrustDice is offering a no deposit sign-up bonus, and each new player can receive up to 100 Satoshis. Also, you can claim free crypto every 6 hours, complete different tasks in exchange for rewards, and claim a login bonus each time you log in.
In the welcome package offer at TrustDice, you can claim up to 3 BTC and 25 Free Spins:
● Make a deposit of at least 0.00035 BTC, and you will get a 100% deposit bonus of up to 1 BTC and 25 Free Spins
● Make your second deposit of at least 0.0004 BTC and get a 75% deposit bonus of up to 1 BTC
● For your third deposit of 0.0005 BTC or more, you will receive a 50% deposit bonus of up to 1 BTC
* These bonuses must be wagered 40 times before you can make a withdrawal from the site.
Some other cool offers that you can find here are:
● Weekly contests for Dice and Crash games where $3,000 and 0.2 BTC will be paid out to the best 10 players
● Earn TXT tokens as you play any game with real money
● Stake your TXT tokens in the staking pool in order to earn additional rewards
● Risk-Free bet – Your first sports bet is on the house. Even if you lose your bet, you will have a second chance to win.
---
Crypto-Games
It is likely that Crypto-Games.net will do for people who tend to choose the golden mean. This casino is not as noisy as PrimeDice, yet it is not as silent as the dead (which SatoshiDice often is). The website has a chat; there are usually about a few hundred people online. In case you want to invite your friends, there is also a referral system.
---
PrimeDice
We will hardly overstate if saying that PrimeDice is the leader among similar websites. From the very beginning, each player gets 100 satoshis for free (0,00000100 BTC) ― the first impression of the process is available without any deposits. If the balance reaches zero, a user can save up some money with the help of an integrated Bitcoin faucet.
PrimeDice is notable for its simplified registration process: the only thing required is typing a name. That's all, one can play dice for bitcoins. A password and email address are discretionary.
There is a chat available in the left part of the website so that gamblers could entertain themselves. The online user counter shows impressive numbers: it rarely goes lower than two thousand people online. Reading the chat, you will often see congratulations on successful bets and predictions on the 2023 Bitcoin price.
---
SatoshiDice
SatoshiDice offers similar conditions to gamblers. The authentication is automatic: if you want to enter your anonymous account again, it only requires using a unique link, which can be found in the «ACCOUNT» tab. Also, you can set up things like passwords, 2-factor authentication, and other amenities.
House edge is 0,5%. Another half of percent goes for a progressive jackpot. As a result, base payout adds up to 99%.
SatoshiDice has enabled the principle of provably fair gambling. Players can make sure that each result is fair.
If comparing PrimeDice to a clamorous brick-and-mortar casino, where there's no room to drop a chip, this web resource is more similar to a comfy basement with a few gamblers sitting at the table. People who prefer quiet simplicity and do not like chatrooms will like this website a lot.
---
In the end: if you are thinking about how you can earn bitcoins with the help of websites like PrimeDice, SatioshiDice, or Crypto-Games, we recommend you forget the whole thing. Such gambling should be pure entertainment, not a way of earning money.
So, we wish you the maximum fan when gambling!