Crash Gambling Sites
Crash is one of the most popular Provably Fair games that you can play on many bitcoin casinos these days. This is a social gambling game that is all about hitting a multiplier that can grow up to 100,000x, but also it can crash at any time. Each betting round starts with a multiplier of 1.00x, and you can cash out at any time. However, you should be careful because, in some rounds, the game can "crash" even at 1.00x, meaning that all bets will be lost.
There are many casinos where this game is accessible, and the best ones are Crashino, BC.game, Stake, Winz.io, and Rocketpot. Except for the Crash game, at these casinos, you can play some other Provably Fair games like Mines, Plinko, Wheel, etc.
This is one of the best games at the moment because of the small house edge that is set, which is usually 1% or 2%. Below, you can learn more about the Crash game at these 5 casinos and even learn some strategies which you can use to maximize your profits from this Provably Fair game.
---
BC.Game
BC.Game is a modern crypto casino that has an amazing palette of online casino games. This casino is different from most because it is a community-based casino that tries to offer the best gambling experience to its players. At BC.game, you can play Live Casino games such as Blackjack, Baccarat, Roulette, online slots, and a few Provably Fair games (Crash, Mines, Limbo, Sword, Hi-Lo).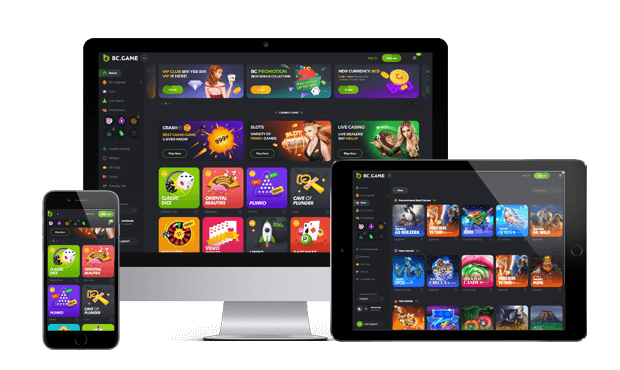 Only cryptocurrencies are accepted for payments at BC.Game casino. You will be amazed by the number of accepted cryptocurrencies that you can use for both deposits and withdrawals. Also, it is important to note that you can participate in numerous promotions and rewarding lotteries.
---
Crashino
Crashino is a next generation online casino that focuses on blockchain-based Provably Fair casino games such as Blast, Crash, Mines, Keno and Plinko. Crashino casino offers deposits and withdrawals with 12 different cryptocurrencies. At Crashino, you can also bet on sports, esports and play other types of casino games.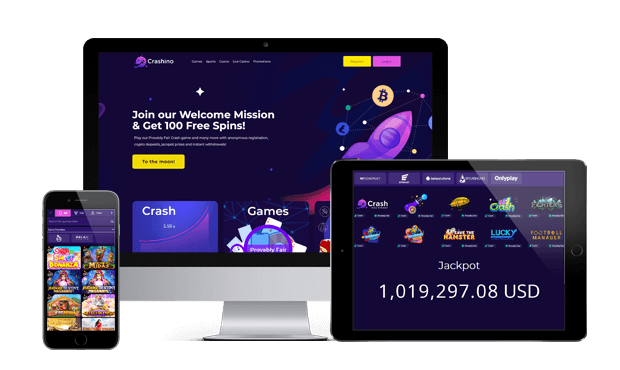 All new players at Crashino can take the Welcome Mission, which is a promotion that can give you up to 180 Free Spins. You will have to make your first deposit, for which you will receive 20, 50 or 100 Free Spins. Deposit $100+ to get the maximum amount of 100 free spins. Then, you will have 4 other missions to complete within the next 7 days and for each completed mission, you will unlock a new batch of 20 Free Spins.
---
Stake.com
Stake.com is a sports betting platform and an online casino that is purely focused on gambling with cryptocurrencies. This is a company that has become an official sponsor of Watford FC and the UFC. Also, it has made a partnership with Drake, Kun Aguero, Israel Adesanya, Alexa Grasso, and a few others.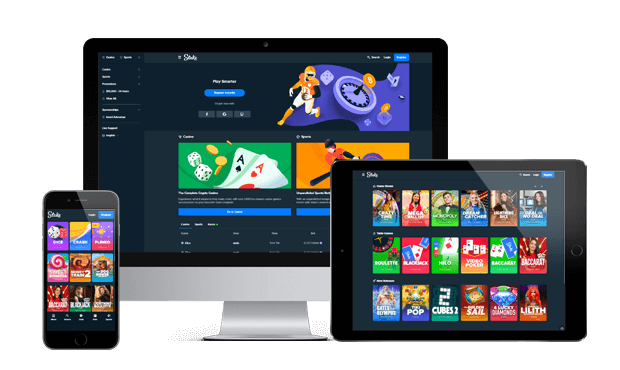 At Stake, you can bet on many sports and e-sports, and we are happy to say that you can expect to find competitive odds. Speaking of casino games, you will find thousands of slots, game shows, Live Casino games, as well as Provably Fair games like Crash, Plinko, Dragon Tower, Slide, Diamonds, Dice, and Keno.
Here, you can deposit with BTC, ETH, LTC, DOGE, BCH, XRP, TRX, and EOS. In addition, we advise you to always check their Promotions page, where you can find some promotions such as Casino Challenges, Random Drops, Slot Tournaments, Weekly Giveaways, and so on.
---
Rocketpot
Rocketpot is a Bitcoin casino where you can enjoy a huge number of games (3000+). The goal of the casino is to offer you the best selection of casino games, fast support, and different methods for depositing/withdrawing. Most of the games here are online slots, but you can also find more traditional games like Blackjack and Roulette.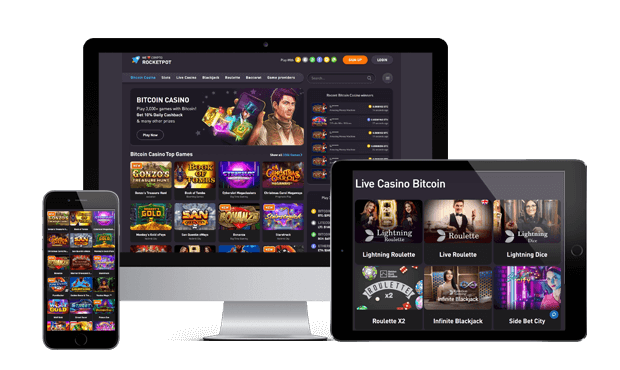 Crash is one of the Provably Fair games that is most famous among their players. Also, at Rocketpot casino, you can choose to bet on many sports. Depositing is available by using any of the following cryptocurrencies: Bitcoin, Ethereum, Binance Coin, Tether, Cardano, Ripple, Dogecoin, Litecoin, Bitcoin Cash, Tron, and Neo.
---
Winz.io
Winz.io is a casino that is known as a fair and fast crypto casino. All types of gambling games can be found here: online slots, game shows, and Live Casino games. If you are up for an adventure, you should always check the current Quest at Winz.io.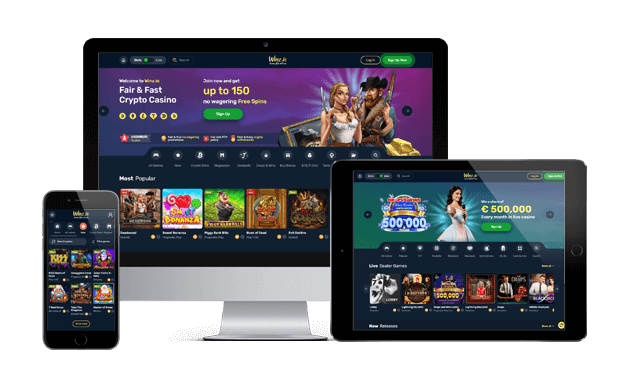 This is a promotion that is a kind of a race, where you have a limited time of 90 days to complete 40 levels. If you manage to reach level 40 before the time runs up, you can win up to $40,000 + other rewards like free spins. You can fund your Winz.io account with the following methods: Bitcoin, Bitcoin Cash, Ethereum, Litecoin, Dogecoin, Tether, Ripple, Maestro, Visa, Mastercard, Neteller, Skrill, NeoSurf, EcoPayz, iDebit, Paysafe Card, Interac, iWallet and Mobile Commerce.
---
How To Play A Crash Gambling Game
First of all, to start playing the Crash casino game, you will have to have a positive balance on your account, meaning that you will have to make a deposit at the casino. Then, look for the game, open it, and you will be able to place your first bet. Next, you will have to decide your bet amount, which you will have to enter in the corresponding field. As you will see, the multiplier will start to grow and your goal is to withdraw your winnings before the game "crashes".
Basic Rules
The rules of the Crash games are very simple. Just enter the desired bet amount and try to listen to your gut feeling about when it's the best time to withdraw your winnings. Most casinos will let you use the Autoplay and Auto cash-out features. For example, you can set an Autoplay, where your winnings will be withdrawn once the multiplier reaches 10x.
Winning Probability
At most of the casinos that are offering the game Crash, the game's house edge is either 1% or 2%. That means that you will have an RTP of 98% or 99% in the long run, which is excellent. However, the winning probability will largely depend on the multiplier that you will choose as a "cashout".
For example, if you are trying to hit a multiplier of 1.5x, you will have much bigger winning chances compared to hitting a 10x multiplier. So, you will have to make a strategy depending on your playing style. If you want to take bigger risks, it will be better for you to try and hit multipliers of 100x, 1,000x, or even 100,000x.
What type of Crash games there are
There are a few types of Crash games that you can play online. The main difference between these games is their name. Other popular names for the Crash game are Aviator and Blast. The reason why these games have different names is because of the different game providers that made the games. The rules are the same, meaning that you will have to place a bet and withdraw your winnings before the round crashes. We would also like to add that at some casinos like BC.Game has different versions of the game: Crash High Striker, Blast, Fighters, Astro Boomers, Astro Boomers Turbo, Save the Hamster, Lucky Crumbling, and Football Manager.
---
Aviator
Aviator is a game made by Spribe provider and it is definitely among the top crash games where you are betting on the beginning of the round, and as the increasing curve starts to form, so does the multiplier starts to grow. This time, instead of a rocket, you will be betting on an airplane, and that is why the game is called Aviator.
As well as the other crash games, the multiplier starts at 1.00x, and it can crash any time. So, if you are cashing out on low multipliers, you are "killing" your chances of hitting a big win, and if you choose to chase high multipliers, you will have a high chance to lose the bet.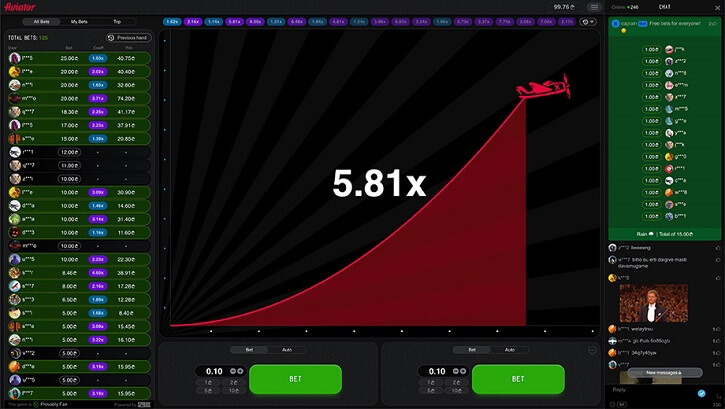 If you plan to use the Auto Play function, just click on the button Auto, set the number of rounds, and then you can even use the Auto Cash Out feature. For example, if you set the Auto Cash Out to 1.5, all game rounds when the multiplier reaches 1.50, you will instantly get 150% of your bet. In addition, when using the Auto Play feature, you can set the Autoplay to stop if cash decreases by X amount, if cash increases by Y amount or if a single win exceeds Z amount.
---
Space XY
Are you ready to reach eternal heights with BGaming? Space XY is a new type of game, and it is one of the most played Crash games on the internet. The RTP of this game is 97%, and the max win is limited to 10,000x your bet. You can place multiple bets and use the Auto Cash Out feature on this game.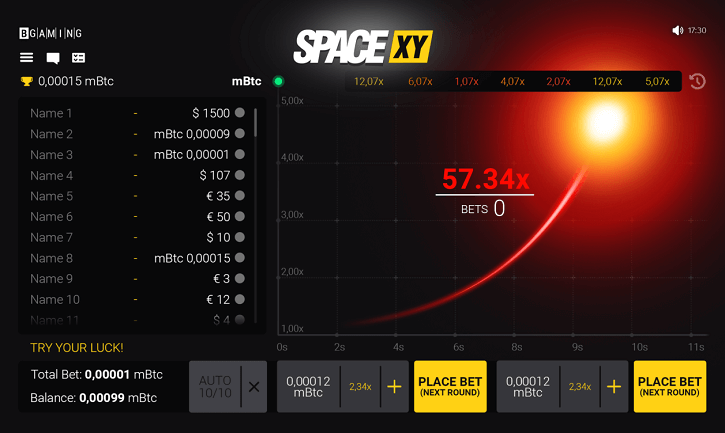 In this game by Bgaming, you will have a limited time to place your bet before each round. If you wish to automate your betting on Space XY, click on the Auto button, and choose between 5, 10, 20, 50, 100, 200, 500, 1000, or an infinite number of games. You can see the previous outcomes of the rounds at the top of the playing screen. You can see the bets of the current round from the left side of the game window. You can also see who succeeded to cash out, and if you notice that some player is running hot, you can even copy his strategy!
---
Spaceman
Pragmatic Play, one of the best gambling providers to date, just took off into the outer space with their newest multiplayer RNG game – Spaceman. This is a variation of the popular Crash game where you will be making real-time decisions from which you can make thousands of dollars. As with other Crash games, the main character here will be flying on an increasingly steep curve that can bust at any moment. Your main task will be to cash out your winnings before the Spaceman crashes.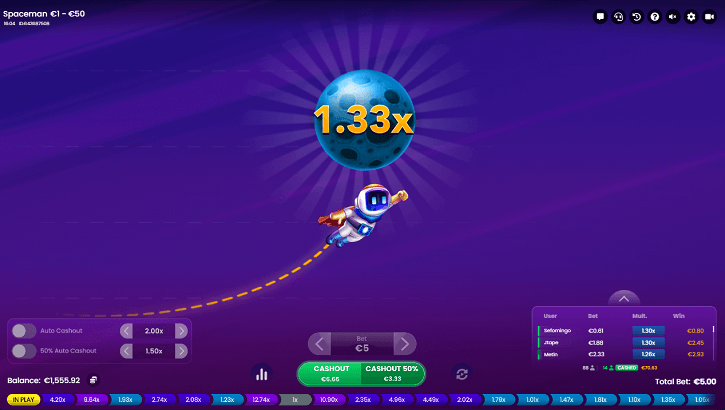 How to play Spaceman? Well, first, you should choose your bet amount and press the button Confirm. When the countdown reaches 0, the Spaceman character will be launched into orbit as he increases his multiplier. Then you need to cash out at your desired multiplier value, but if the Spaceman crashes before you cash out, you will lose your stake.
There are some bonus features in the Spaceman Crash game by Pragmatic Play. Those are Auto bet, 2x Bet, 50% Cashout, Statistics, and Provably Fair. The maximum bet you can place in one round is €25, and the maximum multiplier you can reach is 5,000x. That means that if you are betting on the highest level, you can win up to €125,000 in a single round!
---
Aviatrix
Aviatrix Studios published Aviatrix in October 2022. At first impression, the interface only differs slightly from popular Crash games like Aviator. The game actually supports NFTs and has a great selection of features. Players can join in tournaments or just play for pleasure. The Aviatrix's visuals and sound effects are excellent and suitable for the game. Once your aircraft lifts off from the ground, the winning multiplier activates and starts to grow. The prize you can win increases with the length of your flight!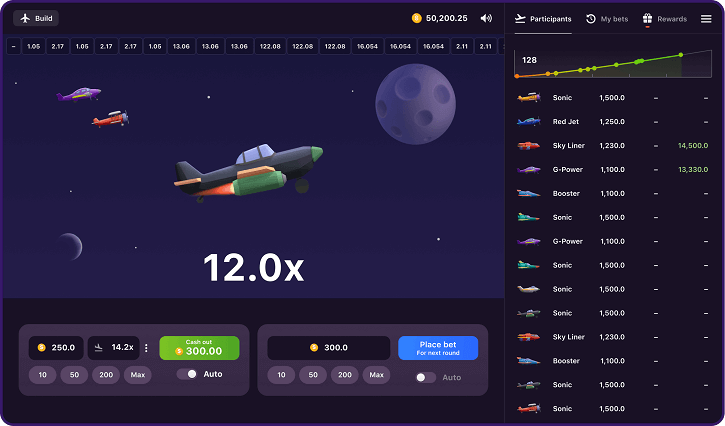 Unfortunately, the plane might blow up at any time, in which case the wager would be lost. The gameboard allows for two wagers to be put on each round as well as cashed out at times of your choosing also has an Autoplay feature. The mobile-friendly casino game Aviatrix is playable on iOS and Android mobile devices.
Aviatrix has a 97% RTP, which means that in the long run, it will return 97% of your bets to you, whichh is a pretty decent offer. The maximum win in Aviatrix is theoretically endless because there is no predetermined cap on winning, even though every casino can set its own limit. However, the maximum multiplier that you can score while playing Aviatrix is 10,000x.
To start playing the game, place your bet amount on the fields below the game window and click on the button "Place bet". When you are satisfied with the multiplier, click on the button "Cash out" and you will receive your winnings. You can also activate the Auto Bet feature by clicking on the "Auto" switch and by setting the target multiplier in the field next to it. So, if you want to try one of the latest Crash games and even play with NFTs, start playing the Aviatrix game right away.
---
Fighters xXx
Three flying starships can crash at any time in the innovative crash game Fighters, which has clear rules and requires swift action. This cosmic game from Pascal Gaming offers immersive galactic vibes that capture players' attention and broaden their understanding of the cosmos. The provably fair algorithm ensures the game's fairness, so you can be confident in the game's outcomes.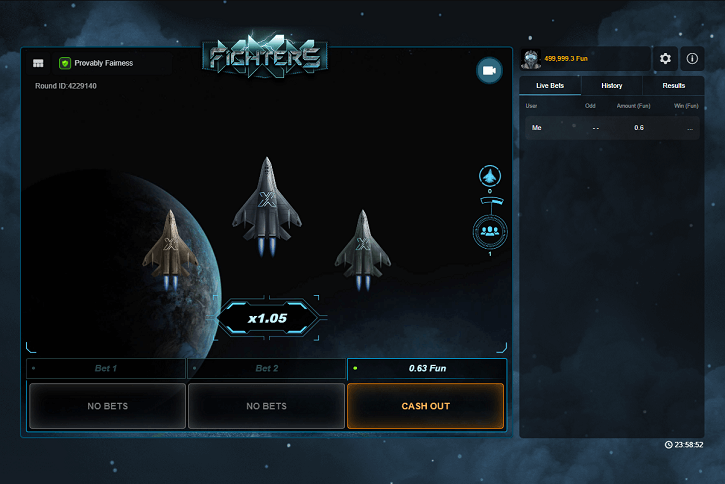 Every round, you can bet on 1, 2, or 3 starships, by clicking on Bet 1, Bet 2, and Bet 3. Also, you can use the features Auto Bet, and Auto Cashout if you want to sit back and enjoy the game. One of the features that make the Fighters crash game unique is the Catapult feature. When turned on, in case of a losing bet, you will receive 50% Cashback, but in case of winning, you will be charged 49% of the won amount.
The RTP of Fighters xXx is 96.14%, which is a bit below the average for Crash games. Speaking of bet limits, you should know that the minimum bet amount is 0.1 euros, and the maximum is 2,000 euros per Fighter, per round. The max win is 200,000 euros per round, but these numbers can vary from one casino to another.
---
JetX
Enter the cosmic realm of Galaxy, where you can boost your Jet at the Crash game Jet X. Developed by Smartsoft Gaming in January 2019 it offers a simple yet captivating experience. The game incorporates amazing visuals and sounds, taking you into an interstellar atmosphere. The Jet X game is playable on your PC, mobile, or tablet without any downloads.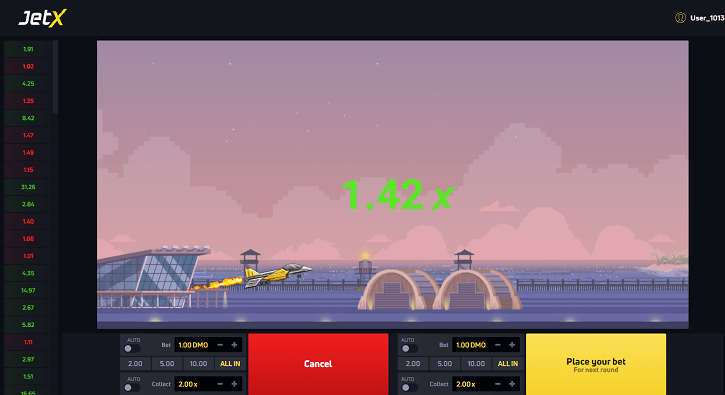 Your objective is to predict the distance that the aircraft will travel before crashing. You need to place a bet before the Jet takes off. With a betting range of €0.10 to €600, this game is suitable for all players, whether they prefer high or low stakes.
Upon placing your bet, the plane will take flight. As it soars higher, the multiplier increases. You can opt for the Autoplay feature to automate both betting (Auto Bet) and collecting your winnings (Auto Collect) – simply set your stake and determine when to collect. The RTP of the game Jet X is not specified, however, it is expected to be in the range of 95% to 98%. Furthermore, when the maximum coefficient of 25,000x is reached, winnings are automatically collected.
---
JetX3
Smartsoft Gaming created one more interesting Crash game, called JetX3. With JetX3, they're venturing into the realm of Crash games, which are currently among the most well-liked online casino games. To begin with, JetX3 is one of the most visually appealing Crash games available right now, and its theme involves following three fighter planes across space. The visual quality tends to be higher than normal and it's a refreshing break from other Crash games that are more simplistic.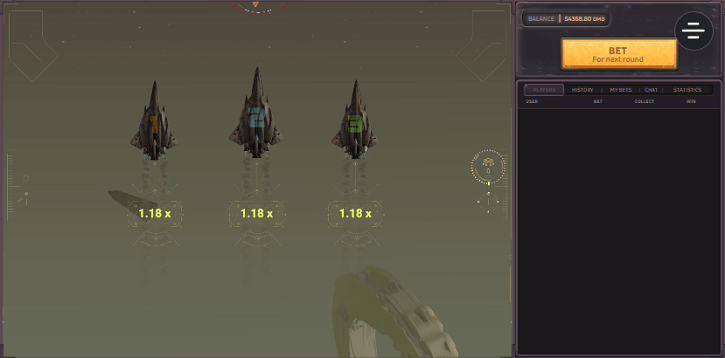 All players can join in on the action with JetX3's math model, which allows wagers ranging from €0.10 to €300 every game round. The game's theoretical RTP is 97%, which is significantly higher than typical, and the top win is x2,000 times your original wager. Of course, there you can use the AutoBet and Auto Cashout features. To use the AutoBet function, please click on the Auto On button, and for the Auto Cashout, click on "Collect" and enter the target multiplier.
---
Mriya
A strategic aircraft called the Antonov An-225 Mriya was created in the Soviet Union in the 1980s. This airplane was very popular and one of the heaviest ever built. That is the reason why NetGame used the name Mriya for this interesting Crash game. The Graphic design is nothing extraordinary, but at least the game's interface is pretty simple.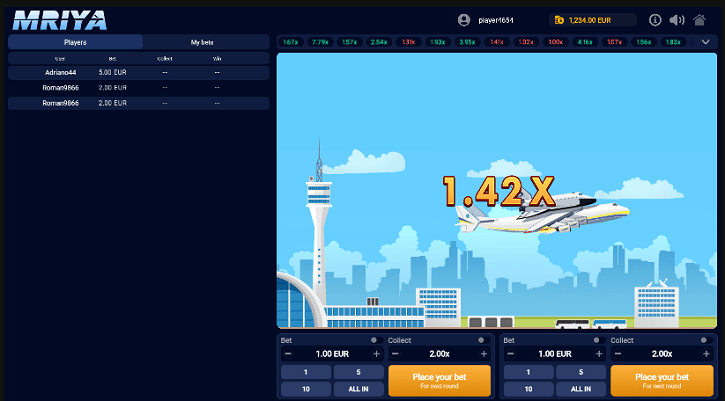 The RTP of Mriya is 96.10%, and the volatility is Medium. You can place bets between €1 and €300. The maximum multiplier that you can reach in a single round is 1,000x your bet amount.
To start the game, choose your bet amount and click "Place your bet". To turn on the "Auto Bet" and "Auto Collect" capabilities, use the tabs "Bet" and "Collect". By doing this, prizes will be automatically awarded to you without your manual involvement. Naturally, the choice of when to withdraw is yours. As with all Crash games, you will lose your bet if you don't cashout before the Jet crashes.
---
The Incredible Balloon Machine
This is one of the most innovative Crash games ever built, which was made by Crazy Tooth Studio back in 2020. Here, instead of playing with airplanes or Jets, you will be playing with balloons. The goal of the game is to make the balloon as big as possible and to stop before the balloon pops. To do that, just set your wager and start holding the red button in the middle. When you think that you have had enough and you want to withdraw your winnings, release the button and click on the green button "Collect".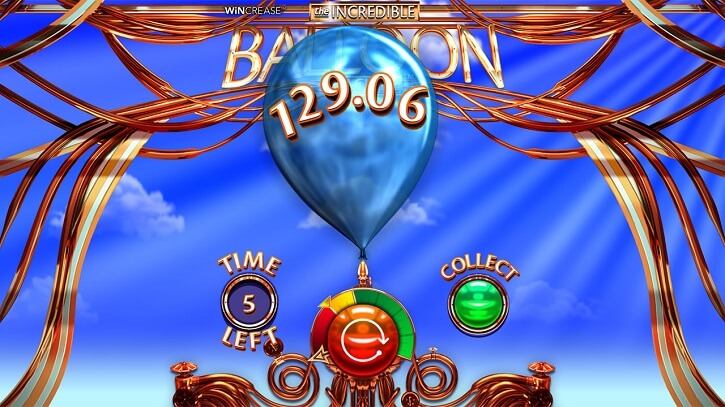 During the base game, the bonus can be activated at any time. A black or golden balloon has to appear on the game window in order to trigger the Incredible Balloon Machine bonus game. When this happens, it either blows or pops, and you will win the Pick Bonus game. When the feature is activated, you'll have to pick among a number of balloons that will gradually show up on the display.
The balloons contain credits that will be added to or multiplied by your winnings, as well as prizes with 2x multipliers. The Advance ballons will take you to the next level of the bonus game, and the Complete ballons will end the game. The Multiplier function of the Incredible Balloon Machine slot machine can be pretty profitable if you're lucky. When that happens, you will see several lightbulbs with multipliers of x2, x3, x4, x5, x7, and x10.
A few light bulbs with the numbers x2, x3, x4, x5, x7, and x10 will turn on when the feature is activated. After that, the bulbs will start to light up one by one until one is selected, at which point your wins will be multiplied by the revealed multiplier. The max multiplier of this game is 3,082 times your bet amount, the RTP is set to 96.75%, and the volatility is medium. Also, the minimum bet is set to €0.20, and the maximum bet is €40.
---
Save the Hamster
Evoplay's online Crash game Rescue The Hamster is the next game that we will speak of. Tom the hamster tries to fly towards the sky in the game. The moment that Tom crashes after the flight takes off is all up to luck. The multipliers increase as Tom soars higher, but you have to cash out first before Tom falls or you'll lose your bet. Keep in mind that Tom could crash even with a 0 multiplier and all your bets will be lost.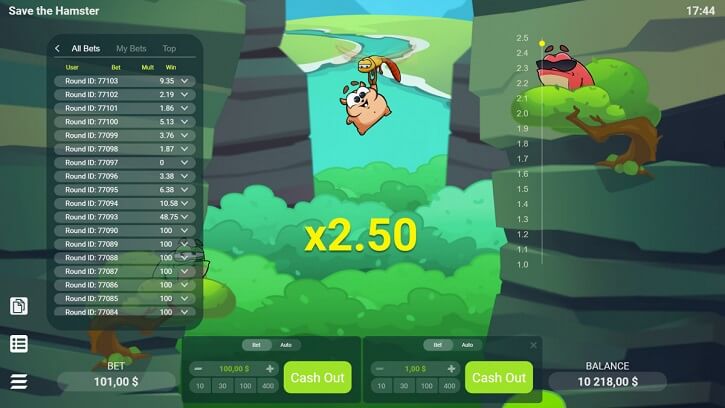 Before the start of any round, determine if you want to place a single bet or two. Adjust your bet level by clicking on the bet amount in the bottom left corner, which will reveal a slider for setting the bet level. Afterward, click the "Bet Now" button to join the upcoming game.
As the game commences, watch as the multiplier value rises with Tom's increasing altitude. You'll notice that the "Bet Now" button has transformed into the "Cash Out" button. Stay alert and be prepared to press the "Cash Out" button whenever you wish to claim your winnings. When you're ready to cash out and accept the currently displayed multiplier as your prize, click the "Cash Out" button without hesitation.
Also, you can use automation in order to place Auto Bets and do Auto Cashouts. Just click on the button "Auto" before the start of the game, select your bet, and the number of rounds (Counter button), and click on the "Off" button next to "Cash Out" to select the target multiplier. The minimum bet is €1 and the maximum is €750. Each round the multiplier can grow up to 1,000x, and the RTP of the game is 96.04%.
---
Playing Crash With Crypto
If you want to play Crash with crypto, you will have to make a crypto deposit. Look at all the available crypto methods in the casino that you are trying to make your deposit, choose your favorite and make the deposit. After that, your will be able to place your wagers and hit some impressive multipliers. So, you can easily play Crash with many cryptocurrencies like Bitcoin, Ethereum, Dogecoin, Tether, Ripple, Bitcoin Cash, and Litecoin.
Provably fair algorithm explained
The provably fair algorithm is one of the latest innovations in the gambling industry. In short, provably fair is an algorithm that verifies and checks the fairness of casino games. This is a kind of guarantee for the players that they will enjoy fair and secure games, without the probability that someone or something can rig the outcomes of the games. One of the best things about this algorithm is that you can always check the fairness of each game.
Auto bet function
You can use the Auto bet function in order to make a repetitive number of bets. Before activating this feature, you just need to set your desired bet amount. Then, you can set the number of the bets that you are willing to take. You can also use the auto cash-out feature that will let you withdraw your winnings of each bet once it reaches your desired multiplier. Once the auto bet stops, you can run it again until you think that you've had enough of this provably fair game.
Crash Gambling Strategy & Tips
You can use many strategies while playing the Crash casino game. Each of these strategies has some advantages and disadvantages, but the house edge remains the same at the end of the day. That means that regardless of your strategy, you will have the same expected winnings after an unlimited number of game rounds.
However, if we are looking for short-term strategies, you can use some of the most popular: Martingale, Reverse Martingale, Fibonacci Sequence, low risk, high risk, 2x+, and a few others. Before you start using any of these strategies, you should know that none of the strategies guarantees that you will make a profit.
Set A Low-Risk Auto Bet
One of the most used strategies in the Crash game is setting a low-risk auto bet. How? Well, you can set auto cash out on a 1.20x, 1.25x, or 1.5x multiplier. If you set it to 1.25x, you will cash out your winnings in each game once the multiplier reaches 1.25x. When using this particular strategy, you will be breaking even if you are winning in 4 out of 5 game rounds. If you have more than an 80% winning rate, you will make a profit, and if you have less than an 80% winning rate, you will lose some of your funds.
Martingale strategy
This is one of the most popular gambling strategies that can be applied to all types of online casino games. The Martingale strategy was first developed in the 18th century in France. The basic principle of this strategy is that you should increase your bet size after each losing bet. Also, when you win, your bet should decrease back to the starting amount.
For example, you can start betting $1, on a multiplier of 2x. If you lose the bet, in the next round, your bet should be at least $2. If you lose the bet again, you should bet $4+ in the next round, etc. Using this principle, any time you win, you will make a profit, counting from the bet where you used the starting amount. The biggest disadvantage of this strategy is that if it happens to you to lose several bets in a row, the upcoming bets would require very high stakes, which makes this strategy risky in some cases.
Reverse (Anti) Martingale strategy
This strategy is the exact opposite of the Martingale strategy. The Reverse Martingale strategy follows the principle of luck streaks. If you choose this strategy, you will have to increase your bet size after each winning bet and vice versa, lowering it after each losing bet. So, by following this strategy, you will maximize your winnings when you hit good streaks of luck, and you will minimize the losses that can occur in a bad streak of luck.
Fibonacci Sequence strategy
To use this strategy, you will first have to know the Fibonacci sequence, which is 1, 1, 2, 3, 5, 8, 13, 21, 34, 55, etc. The idea of the Fibonacci Sequence strategy is that after each losing bet, you should increase your bet by the next number in the sequence. When using this strategy, you will win the last two stakes back whenever a win occurs. However, when you win in a certain round, you should decrease your bet by two numbers in the sequence.
Betting lower multipliers
You can also play the Crash game by betting on low multipliers. If you decide to use this strategy, you should know that you can't win huge amounts (unless you bet huge amounts), however, the chances that you will lose a lot are also very low. So, it might be smart to try and cash out your winnings when they reach a multiplier between 1.10x and 1.50x.
Crash Gambling Tips For Beginners
If you are new to the Crash game, you should maybe try to play some rounds in the demo mode. One of the best tips we can give you is never to place more than 50% of your bankroll in one round because it is a very risky move. Next, you shouldn't play with money that you can't afford to lose. Knowing when it is the right time to stop playing can also make the difference between a winner and a loser in the long run. Additionally, we advise you to use the auto cash out feature, especially if you don't have a stable internet connection.
How to improve your chances?
In order to improve your chances of winning at Crash blockchain game, you should use the auto cash-out feature because it removes the possibility that you can forget to cash out. Also, you can use some of the strategies that we mentioned above. If you are a risk-taker, you can use some of the riskier strategies, and if you consider yourself as someone that wants to play safe, you can use the low-risk strategies.
How to choose a good casino for Crash
Check for any special bonuses and promotions
Before depositing, always check the promotions/bonuses page. There, you can find some special promotions that can offer you deposit bonuses, cashback, or other cool deals that can drastically improve your chances of winning. Some casinos even host Crash tournaments, where the winners will be decided by the total amount wagered or the highest multiplier hit.
Search only for provably fair games from licensed casinos
Another important thing that you should always look for is whether you are playing on a licensed online casino. There are many online casinos operating without a gambling license, which means that they are not obligated to respect the fairness of the games. Also, these casinos are keener to give you trouble when you want to make a withdrawal. That is why you should always play on licensed online casinos.
Check for casinos with lower House Edge
Not all casinos will give the same RTP percentage when it comes to online gambling. Even some of the licensed crypto casinos know to give you a slightly worse house edge when compared to other casinos. That is why you should look for casinos that have the Crash game with 1% or 2% House Edge.
Pros and Cons
Pros of playing the Bitcoin Crash Game
Fairness is guaranteed
You can check the fairness
The house edge is relatively low when compared to other games
You can win up to 100,000x on your base bet
You can use the Auto bet and Auto Cash Out features
Cons of playing the Crash casino game
There are no bonuses as in online slots
There are not so many promotions for the Crash game
If you are not using the Auto Cash Out feature and you lose connection, you will lose the chance of cashing out your winnings
Frequently Asked Questions about Crash Gambling
📌 What is Crash gambling?
Crash gambling is a type of gambling on the popular casino game Crash, which is a guessing game where luck is the biggest factor for winning.
📌 What crypto currencies are accepted?
Depending on the casino where you are going to play Crash, different cryptocurrencies can be accepted, but you can always deposit with Bitcoin, Bitcoin Cash, Ethereum, Tether, and Dogecoin. Other cryptocurrencies that are also accepted are Binance Coin, Ripple, Litecoin, Solana, Tron, and EOS.
📌 What is the best winning strategy for playing Crash?
There is no best winning strategy for playing Crash, however, you can consider the Martingale, Reverse Martingale, Fibonacci Sequence, and the low-risk strategies.
📌 Where to play Bitcoin Crash?
You can play the Crash Bitcoin game at any casino where you can find it, but we advise you to always play on licensed casinos. Our top picks for Crash gambling are Winz.io, Crashino, Stake.com, BC.Game, and Rocketpot casinos.
📌 How to play Crash for free?
You can play the Crash game for free by using the Demo mode, where you will be playing with free money. While playing for free, you can try all of the strategies that we provided above and decide which one you like the most.
📌 How to choose a Crash game from different providers?
If you want to play the Crash game from different providers, it might be best to search for the game Aviator or the game Blast (Bet Construct).
📌 How much is it possible to win in Crash games?
The max multiplier and the max win can differ depending on the casino. That is why you should ask their live chat agents about how much you can possibly win and then decide where you are going to play. Some casinos can pay you out up to 100,000x on your base bet.
📌 Are there any Crash games in Live Casino or Game Shows?
Crash is a blockchain-based Provably Fair game on its own, so it can't be found in the Live Casino or Game Shows sections.