There are lots of Provably Fair games that were developed recently, and one of the most played among them is Minesweeper. You might recognize the name by the Windows game Minesweeper, but the catch here is that you can play the Minesweeper game with Bitcoin and win lots of money by doing so.
Most crypto casinos have already introduced Provably Fair games to their players, but not all of them support this amazing crypto game. So, if we have to choose from the vast field of online casinos, we can tell you that playing Minesweeper on Stake, BC.Game, Wolfbet, Winz.io, and FortuneJack is the smartest move that you can make.
Where Can I Play Bitcoin Minesweeper Online?
As we said, not all Bitcoin casinos can let you play Minesweeper with Bitcoin. Below, we will tell you more about each and every one of these five casinos and their Minesweeper games.
---
BC.Game
When speaking of crypto entertainment, BC.Game is the first casino that comes to our mind. This platform has proven how fast one casino can grow, introducing various casino games, sports betting, house games, etc. There, you can find plenty of opportunities to grab some extra funds via numerous promotions and offers.
If you want to try their Minesweeper game, just head to the casino tab, select BC Originals, and then finally choose Mine from the screen. This game has an impressive RTP of 99%, so you will be enjoying fair play whenever you decide to play.
---
FairSpin
Loaded with 7000+ games, FairSpin is an awesome crypto casino with high-quality provably fair games. Among its top-notch selection of provably fair titles, you'll find four Minesweeper games. These include Minesweeper and Minesweeper XY by BGaming. The other two are Mines by Turbo Games and Mines by Spribe.
---
Stake
Stake is very serious casino and betting platform that is solely focused on gambling with crypto. You can see its professionalism through its partnerships with Drake, Watford FC, UFC, Kun Aguero, Israel Adesanya, and many more. Except for BTC, you can play its Mines game with ETH, USDT, EOS, TRX, XRP, LTC, DOGE, and BCH.
---
Wolf.bet
Wolfbet is another online Bitcoin casino where you will be able to play Minesweeper with real money. Besides BTC, you can fund your player account with dozens of other popular cryptocurrencies like Shiba, Ripple, Ethereum, Litecoin, Bitcoin Cash, Cardano, etc. So, if you want to play Minesweeper at Wolf.bet, you can choose between Mines (Microgaming), Mines (Spribe) and Gold Digger: Mines by iSoftBet.
---
Winz.io
This popular crypto casino really stands out among its competitors with its weekly promotions that you can use in order to claim no wager free spins. At Winz, you will also find rewarding Quests, Twitter Giveaways, Slot Festivals and other lucrative promotions and slot tournaments. In addition, you can also enjoy playing the crypto game Minesweeper. The easiest way to find this game is by going to the Provably Fair selection of games.
---
FortuneJack
Last on the list of best Bitcoin casinos for playing Minesweeper online is FortuneJack. Even though this platform is more focused on sports betting, there are thousands of casino games, and one of them is Minesweeper. This casino accepts crypto payments (BTC, ETH, LTC, DOGE, TRX, DASH) and fiat currencies (EUR, GBP, USD, RUB), so it will be easy for you to deposit with your preferred method. There are two kinds of Minesweeper games at FortuneJack, and these are Mines (Orbital), and Mines (SteadyGames).
---
Small, Bitcoin Exclusive Betting Sites
Of course, there are hundreds of other crypto casinos where you can deposit with Bitcoin or some other crypto coin. You should always be aware of the site because, in this modern age, there are casinos that operate without having a license, and we advise you to stay aside from those kinds of deals. Here are some not so famous Bitcoin Exclusive betting sites: Thunderpick, Betcoin, and Cloudbet.
Mainstream Bitcoin Casinos
When it comes to mainstream Bitcoin casinos, we should tell you that there are quite a few of them. We can begin with Bitstarz, one of the leading Bitcoin casino sites on the web. Next, we also have to mention Bitcasino.io, a place that is abundant in excellent community promotions and a rewarding VIP system. mBit casino is the third casino that we want to tell you about, and that is because this casino has an enormous welcome bonus, a great support team, and thousands of casino games.
Most popular Minesweeper Bitcoin games
Below, we are going to do a quick review of the most popular Minesweeper Bitcoin games that you can find online.
Minesweeper XY (BGaming)
Minesweeper XY is a simple, but yet exciting Minesweeper game. In this game, you will first have to choose the game grid, which can be 2×3, 3×6, 4×9, 5×12, and 6×15. Then, you can set your desired bet and start playing the game. Your goal here will be to progress on the green field while not clicking on any field where a mine is hidden. From the right side, you can see how much you can collect at any moment, and you can choose to collect your winnings by clicking on the Collect button from the right side of the screen.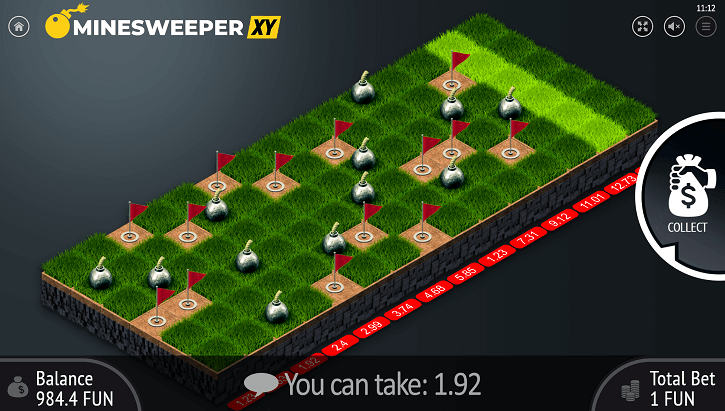 The more fields are in width, the less chance you will have of landing on a mine. However, if you manage to pass the whole field of mines, you will automatically collect the highest prize in that round. So, just choose your favorite grid and trust your gut instinct in order to "locate" the mines on the field.
---
Gold Digger: Mines (iSoftBet)
This is one of the most interesting Minesweeper games because it is a unique mini casino game that looks like a slot game, but it isn't. Here, you will be playing on a 5×5 grid, and depending on your luck, you can win up to 288x your bet size. The max win of this game is $86,400, and as with the other games, you can change the volatility of the game. The RTP of Gold Digger: Mines is between 96% and 98.88%.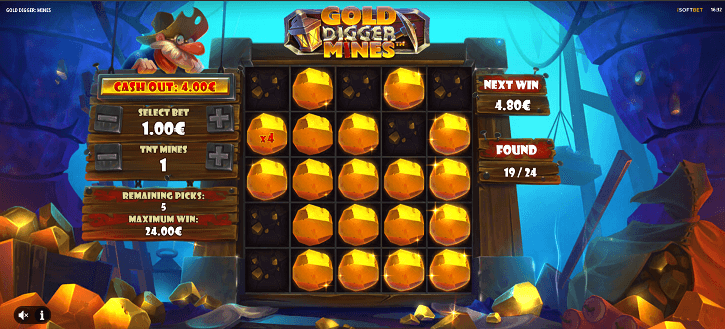 To start, you should select your bet size, which can be anywhere from $1 to $300. Instead of mines, in some fields, there will be TNT boxes, and if you click on them, it is game over. Before starting the round, you can set the number of TNT mines that can be as low as one and as high as 15. If you choose to play a game with more TNT mines, the potential max win will be higher. However, you should be aware that you will have more chances to step on a mine that way, so plan your strategy well!
---
Mines (Hacksaw Gaming)
Mines by Hacksaw Gaming is another great Minesweeper game that gives you unlimited options speaking in terms of volatility. As with the other Minesweeper games, your goal will be to avoid the mines on the grid. The minimum bet is 0.20 Eur and the maximum bet is 1,000 Eur.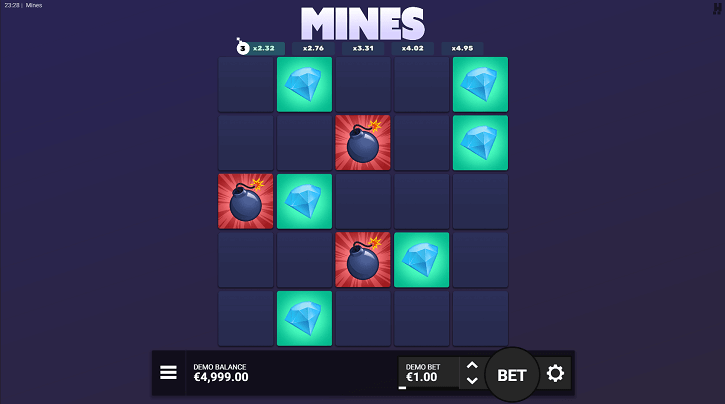 By clicking on the settings icon next to the "Bet" button, you can select your desired grid size and the number of mines on it. You can choose between 3×3, 5×5, 7×7, and 9×9 grids. Then, you can select the number of mines, which can be some of the default numbers or your own custom number. For example, if you are playing on a 5×5 grid, the maximum number of mines that you can set is 24, because there has to be a field that will make you a winner. Be careful if you are playing on the maximum number of mines because you can lose a lot in a bad streak of luck!
---
Mines (Spribe)
This Minesweeper game from Spribe is also a unique one, and here you will be playing on a 5×5 grid. In each game, you can set the number of mines on the grid between 1 and 20. The bet amount can be as low as $0.10 and as high as $100. So, if you want a game with lower variance, it might be better if you set a game with 1 to 5 mines, and if you are up for gambling, you should set the number of mines to be ten or even higher.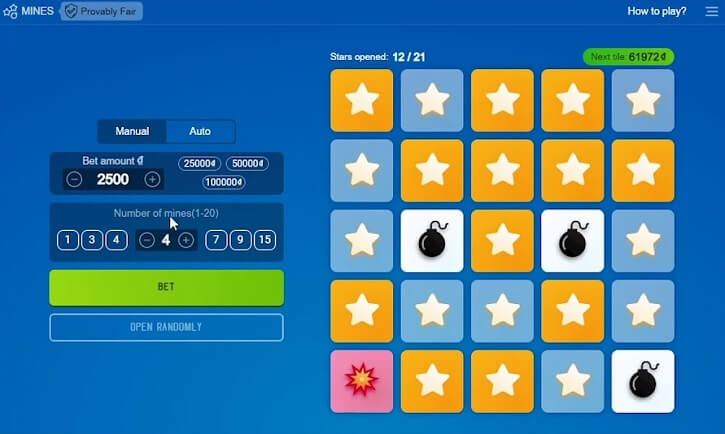 When in doubt, you can always click on the button "Open Randomly," and this function will open 1 random field on the grid. Also, you can use the Auto bet function, where you can set the bet amount, the number of mines, and how the game should proceed after a win or a loss. You can choose to cash out after each opened star. The RTP of this game by Spribe is 97%.
---
Other Minesweeper mini games
In addition to the four Minesweeper games that we talked about above, there are some other cool games of this kind that you can find online.
BitKong
The Bitkong Mines game is a cool Provably Fair game that you can play with Bitcoin. The rules are the same, meaning that you will be opening fields in order to multiply your winnings, but once you click on a mine, it's game over. The grid at this game is set to be 5×5.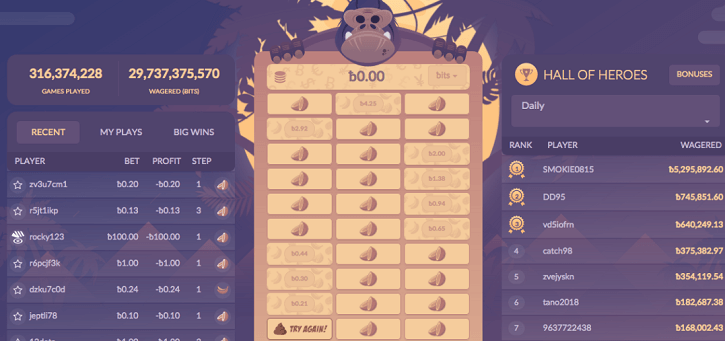 Before starting to play, you should set your bet level and then choose how many mines you want to be on the field. You can choose between 3 and 24, but if you go with 24, you should know that only one of the fields will make you a winner, and clicking on every other field will result in a loss.
---
Crypto Skull
Crypto Skull is a gambling platform where you can play a version of the Minesweeper game. Here, you can choose between 3 volatilities: easy (3×10), medium (2×10), and hard (3×10).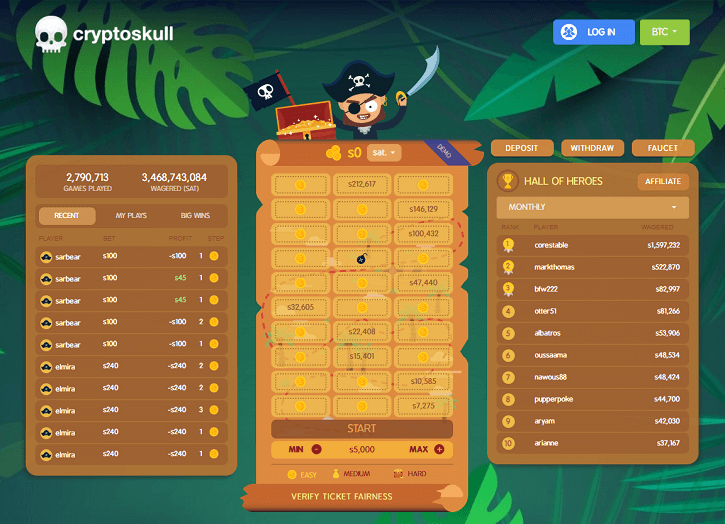 When playing on easy and medium modes, on each step there will be only 1 mine, and when playing on the hard level, there will be 2 mines on each step. After each successful step where you don't land on a mine, you can choose to cash out your winnings by clicking on the corresponding button.
---
Satoshi Mines
Satoshi Mines is a Minesweeper game of pure luck that is being played on a 5×5 minefield. Your goal will be to click on as many green tiles on the grid and to cash out your winnings before clicking on a minefield.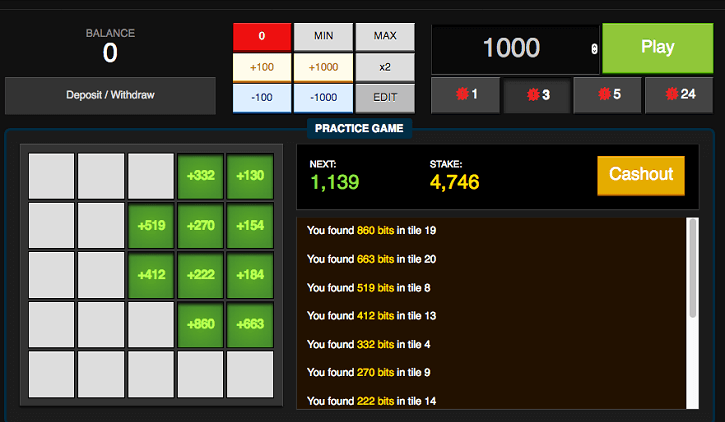 The RTP of the Satoshi Mines game is 99% which is an excellent number! You can set the number of the mines on the grid, and that is how you can adjust the variance of the game.
---
About Bitcoin Minesweeper
Bitcoin Minesweeper is one of the highest-ranked Provably Fair game and it is a very simple one. You don't have to have any skills for playing Minesweeper with Bitcoin, and all that you need is a bit of luck. Regardless of the game provider, your task is to avoid the mines and cash out your winnings before you place your next bet.
How Does Bitcoin Minesweeper Work?
Bitcoin Minesweeper works by using the blockchain algorithm that provides the required fairness and safety to the players. In each game, there are fields on which the mines will be randomly distributed, and in order to end up victorious, you must cash out your winnings before landing on a field where a mine is hidden.
100% Provably Fair
As with the rest of Provably Fair games, this game too is 100% Provably Fair, and you can always check the fairness by the game's history. There you should look for the client seed, server seed, combined hash, and round result.
A Game of Pure Chance
As we have already mentioned, this is a game that is based on luck, not skill. Yes, you might change the outcome by setting different game settings and a number of mines, but regardless of the provider and the volatility of the game, you will still have to rely on good fortune and luck in order to win.
Clearing Fields Is the Ideal Tactic
The ideal tactic is clearing fields, and that is actually the only thing that you can do to progress in the Minesweeper game. Just click on the fields where you think that there is no mine, and if you are right, choose if you want to continue gambling or collect your winnings.
Tips and strategies for Bitcoin Minesweeper
Even though the Minesweeper game is based on luck, there are some tips and strategies that you can use in order to improve your chances of winning.
1. Set the volatility to suit your playing style
If you want to win more in less time, play games with more mines or try to clear the whole field. But if you don't want to take some big risks, you should try to cash out when you will have a multiplier of at least 3x.
2. Try clicking on the same spots every game round
By doing this, you will be looking for your "lucky" fields, and sometime you will have to end up victorious.
3. Don't lose more than you can afford
This game can be tricky, and if you don't know how to control yourself, you can lose more than you planned to. Don't take this game personally, and play only until it seems fun to play!
Reasons to Bet on Minesweeper with Bitcoin
The biggest reasons why you should play the Minesweeper game with Bitcoin is that this game is very easy to learn how to play and that the RTP of this game is very high (up to 99%). Why to play some slots that are offering only 95% RTP when you can play a Provably Fair game that is faster, more secure, and pays more often?
FAQ about Minesweeper game
📌 What is the best strategy to win?
Because the Minesweeper game is a game of pure chance, there is no strategy that can guarantee that you can end up the round while making some profit from it. That's why we can tell you that the best strategy to win the Minesweeper game is to choose to play games with fewer Mines and to collect your winnings once you are satisfied.
📌 Which cryptos are accepted to play Minesweeper?
In order to play Minesweeper, you will have to deposit some cryptocurrency to your chosen crypto casino. This means that your crypto deposit options will largely depend on the casino where you will be playing. Usually, you can deposit with BTC, ETH, USDT, DOGE, BCH, XRP, and TRX.
📌 Which crypto casino to choose to start playing Minesweeper?
If you still haven't decided where to play Minesweeper online, just make a pick between Stake.com, Winz.io, BC.Game, Wolf.bet, and FortuneJack. All of these casinos are licensed, and you can play many other casino games at any time.
📌 Is Bitcoin Minesweeper provably fair?
Yes, the Bitcoin Minesweeper game is a Provably Fair game, meaning that its fairness is guaranteed by the blockchain technology, and all of you can check for the fairness of any round. Also, the house edge of this game is usually only 1%, and that is another reason why you should play Minesweeper over any regular casino game with a higher house edge.