We proudly present to you the upcoming 2nd Birthday party of Winz.io casino. This time, the celebration will come with a lottery that has $10,000 up for grabs.
If you are an existing Winz.io player, just log in to your account and redeem free 5 CPs for the lottery ticket. If you still don't have a Winz.io account, just create one and you will be awarded 5 CPs, that you can use in the upcoming raffle.

How the prizes are going to be distributed?
There will be 57 winners in total, ranging from $100 to $1,000:
● 3 lucky players will receive $1,000 each
● 4 lucky players will scoop $500 each
● 50 lottery participants will get $100 each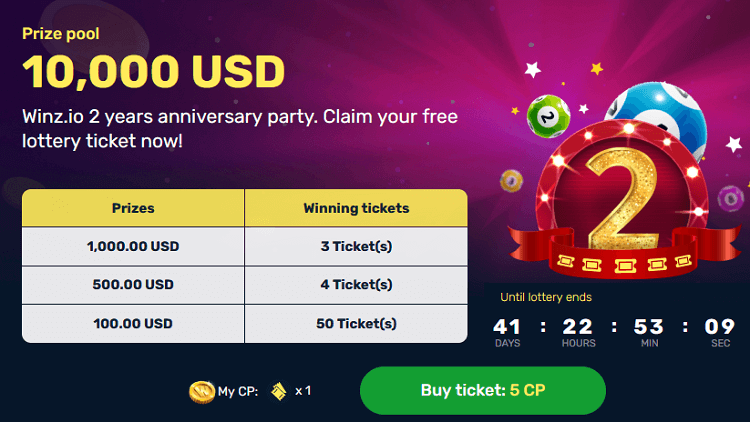 The lottery runs from April 20th until June 1st, so you have plenty of time to get your ticket. Just log in, click on the burger menu in the top bar, select Lotteries and click on 2-Years Raffle. There, you will notice a green button "Buy Ticket", which you have to click in order to enter the raffle. Be advised that every person is limited to only 1 entry in the draw, so all participants will have an equal chance of winning, regardless of their VIP status.
In addition, you should know that Winz.io hosts regular casino tournaments, attractive promotions, and quests that you can use in order to get some extra cash. So, don't wait any longer and buy your ticket to win up to $1,000 in real cash.