BetUS – Crypto Gambling Website Review
BetUS is a U.S.-oriented sportsbook, facebook, and casino which has been in operation in some form or another since 1994. Navigating the legal territory of serving U.S. customers while accepting cryptocurrency as a deposit option is a difficult task that BetUS managed to succeed in, and it is slowly rising in popularity among crypto gamblers. The website's reputation has taken a hit over several reports of major winnings being paid out too slowly, but other than that, they are considered a dependable, trustworthy operation.
Best Sportsbook and Casino for US customers
Amazing Welcome Bonuses up to 150%
Casino and Sportsbook bonuses
BetUS offers 2 different crypto welcome bonuses, with each one geared toward different game type preferences. The first is a 100% sportsbook bonus and 25% casino bonus (up to $7500, code = SU150CRYPT) and the second is a 150% casino bonus (up to $3000, code = CAS150). These bonuses have a minimum deposit requirement of $100. There is a 10x rollover requirement for the sportsbook bonus (meaning you must play through your bonus money 10 times before it can be withdrawn), and a 30x requirement for the casino bonus.
For fiat money (USD) players, BetUS offers a separate bonus which matches 100% of your first deposit as a sportsbook bonus and 25% of the deposit as a casino bonus. This bonus applies to deposits up to $3125 and requires a minimum deposit of $100.
BetUS also offers an assortment of weekly bonuses, including a 50% re-up bonus and a 50% bonus for blackjack players. In addition, they also have a varied selection of daily bonuses for casino players and sportsbook bettors, and a referral program as well.
For frequent players, BetUS has a loyalty program where points can be accrued in order to receive special rewards, including increased bonus offers and unique prizes.
Deposits and withdrawals
BetUS supports a pretty standard selection of cryptocurrency options, including Bitcoin (BTC), Ethereum (ETH), Bitcoin Cash (BCH), and Litecoin (LTC). For those who prefer to play with USD, deposit methods include credit card, bank transfer, and wire transfer.
There is a $10 minimum for all deposits and a $50 minimum for withdrawals. Withdrawal fees are fee when withdrawing via crypto or credit card. There is a daily payout limit of $5000 for all types of withdrawals, and all payouts must be made by filling out a payout request form. BetUS has had a few complaints over the years about the speed of their withdrawal processing, especially when it comes to handling USD. For quicker withdrawal processing, playing with crypto over fiat is highly recommended.
Note that players from the following countries are restricted from playing at BetUS: France, Germany, Netherlands, Canada, Costa Rica, Panama, Philippines, and Curacao. If you have any doubts about the legality of your participation, read their terms and conditions here before making a deposit at BetUS.
Crypto casino games and sports betting
BetUS is divided up into 3 major sections: Sportsbook, Racebook, and Casino. While not unappealing, their layout is a bit different from most other casinos. It directs your eyes to pertinent information rather than fancy graphics, which is a reflection of its emphasis on being a sportsbook more than a traditional casino.
The sportsbook features 20+ leagues and competitions, as well as dedicated sections for E-Sports and Madden simulation betting. Most major sporting events have a number of prop bets as well as a customizable selection of handicap, money line and over/under bets. BetUS also has a section for Live Betting, with responsive, updated odds and decent-sized time windows for bet placement.
The racebook monitors horse races in 26 different racing tracks, divided into standard racing and harness racing. It also features betting on fixed odds races and championship cups. This makes BetUS one of the most complete providers of horse racing bets among cryptocurrency-friendly casinos and definitely sets it apart from the competition.
The casino section is definitely the most limited aspect of BetUS, with a handful of games divided into the following categories: Blackjack, Card Games, Table Games, Video Poker, Slots, and Video Bingo. There are on average 6 different games in each category, with the biggest selection to be found in the Blackjack category. While this selection may be enough for extremely casual players, most online casino enthusiasts who don't have any interest in sports betting will probably want to look elsewhere.
Customer support
BetUS is fairly consistent with customer service, which is available on a 24/7 basis. There are 3 ways in which they can be contacted: contact form (for more urgent inquiries), email (for advanced communication), or phone (for direct personal assistance; phone numbers are assigned to several different departments).
Security and fairness
Though focusing primarily on a U.S. audience, BetUS is incorporated in Panama and licensed by Curacao. They strive to remain in compliance with U.S. law, and this involves collecting personally identifying information and documentation when necessary.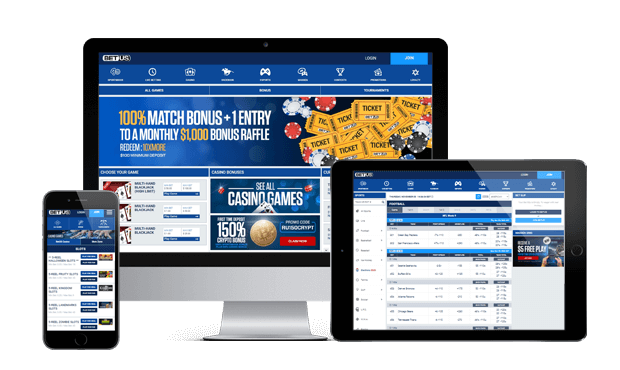 Players requesting large cash withdrawals have reported lengthy delays in processing, and this has led to several complaints being lodged against the sportsbook, but they are still considered to be a secure and competent operation that knows how to act as a proper steward of your money.
Of the few casino games that it does offer, BetUS makes no mention of whether they are provably fair.
---
Pros and cons of BetUS Casino
In all, BetUS Casino is a decent choice of sportsbook, especially for those located in the U.S. It has a fantastic selection of events that are popular among U.S. sports enthusiasts and a wide variety of bet types that can be made for each bet. On the downside, its casino section is all but void of games, and you have to wonder why they bothered building it in the first place.
Pros:
– Available to players in the U.S
– 20+ years of experience as an online sportsbook & casino
– Extensive selection of sports bet types at comparatively good odds
– Fully-stocked racebook that carries races from lesser-known tracks
Cons:
– Extremely limited selection of casino games
– Limited fiat currency support (USD only)
– Complaints about withdrawal processing speeds
– Winning players are often limited on future bet amounts