Welcome to Crypto.Games, an exciting and secure online casino operated by MuchGaming B.V., based in Willemstad, Curacao. It is regulated under License No. 8048/JAZ and offers a variety of popular game categories, including dice, slots, roulette, and other captivating games. At Crypto.games, players can enjoy free faucets, and exceptional customer support available through live chat and email.
While CryptoGames doesn't offer a wide range of promotions, they host monthly wagering contests. The contests provide opportunities for players to compete and win prizes. It's important to note that the casino does not currently feature a sportsbook. However, it does have an exclusive VIP program that rewards loyal players with benefits. Those benefits are a lower house edge on dice, higher exchange limits, and access to a VIP chat room. Join Crypto.games today and embark on a thrilling gaming adventure!
The best provably fair crypto gambling website
Crypto.Games Bonuses
Crypto.games casino is a treasure trove of bonuses, promotions, and special events designed to keep players engaged and entertained. The casino hosts a thrilling monthly wagering contest that features leaderboards for each coin, and the chance to win fantastic rewards as well as lottery tickets. Participants can enjoy a range of prizes, such as access to the VIP chat channel, email vouchers, and a birthday bonus. The top performers also receive exclusive perks, like a reduced house edge on the dice game and other benefits.
In addition to the monthly wagering contest, Crypto.games casino offers an impressive VIP program that rewards loyal players with exclusive privileges, including a VIP tag and customized promotions.
Registration Bonus
Crypto.games casino has a unique way of rewarding their new players. Instead of offering free spins, each player is entitled of receiving faucets on each of the accepted cryptocurrencies. In order to do that, you will need an account, and you will have to set an email address, connect your account with it, and verify it. Then, just click on "Change coin", and select the coin in which you would like to receive the faucet. Finally, go to Your Account, select Rewards, solve the captcha, and click on "Request". The good thing is that you will be able to claim the free faucet once every 180 seconds.
Welcome Bonus Package
At this moment, there is no welcome bonus package that gives a deposit boost for all new depositors at Crypto.games casino. However, there are other promos in which you can take part and win some extra cash.
Promotions
At Crypto.games casino, you will always be able to find some nice promotions. These promotions can be found by clicking on the button "Promotions" in the casino's footer. Then, you will be taken to the casino's forum and you will be able to see the weekly promotions.
Tournaments
Usually, there are no casino tournaments on Crypto.games casino. However, there is a monthly wagering contests which has a very similar format to a casino tournament. All Crypto.games players have an incredible opportunity to take part in the monthly wagering contest. The contest begins on the first day of each month at 0:00 UTC and concludes on the last day at 23:59 UTC. This exciting competition features leaderboards for each coin. Not only do participants have a chance to win fantastic prizes, but they also receive lottery tickets throughout the month.
Promo codes
You won't have to enter any promo codes at Crypto.games casino. Anyway, on the social media accounts of this casino, you can find promo codes. Those codes can be activated in the "Rewards" section.
Loyalty & VIP programs
Crypto.games casino features a prestigious VIP Program designed to reward its most dedicated and loyal players. The VIP Membership aims to elevate the gambling experience by offering many exclusive benefits that enrich the time spent at the casino. To become a Premium VIP Member, players need to secure one of the top spots in the casino's monthly wagering contests. These contests vary depending on the currency used, with the top five players for Bitcoin and Ethereum, the top three for Litecoin, and the top player for other coins being awarded VIP status for one month. PlayMoney winners, however, are not eligible for VIP Membership.
As a VIP Member, you can indulge in a plethora of benefits that are accessible throughout the duration of your VIP status. These benefits include:
● Lower House Edge on Dice: Experience an exclusive 0.8% House Edge, which is 20% less than what regular players enjoy.
● Highest Bet Priority: Place bets of any size without server-side delays, ensuring maximum bet speed.
● Higher Exchange Limits: Enjoy higher onsite exchange limits, with VIPs able to exchange up to 10 times per day, up to a total of 1 Bitcoin.
● VIP Chat Room: Access a private VIP chat room to communicate with fellow VIP players and casino managers.
● VIP Tag on Chat: Show off your VIP status with a [VIP] tag visible every time you send a message in the chatbox.
● Happy Birthday: Receive $100 worth of Bitcoins on your birthday, applicable for VIP members who have completed tier 3 verification (KYC) or higher.
● Bonus Faucet Level: Claim additional rewards from the faucet with an extra faucet level.
● Monthly Voucher Drops: Enjoy vouchers sent to your email, with the number of vouchers and currency depending on your position in the wagering contest. Vouchers are distributed on the 2nd, 3rd, and 4th week of every month and must be redeemed within three months.
By offering these exclusive benefits, Crypto.games casino aims to provide its VIP members with a premium and divine gambling experience
Crypto.Games Casino Games and Providers Portfolio
Once you visit Crypto.games for the first time, you will understand that this gambling site is a bit different. Instead of offering thousands of games, Crypto.games has a very limited selection. All of these games are Provably Fair, which means that you can trust their outcomes. Some of the games that you can play are Roulette, Blackjack, Minesweeper, Keno, Video Poker, Plinko, Slot, Lottery, and DiceV2. Each game has its own RTP% and after checking them, we can confirm that the RTPs are pretty decent! There are no game providers, because all games are made by the house itself. However, keep in mind that some games have a few versions which can be set on the game's window.
Here are the house edge percentages for the games available at Crypto.games casino:
● Dice and Dice v2: 1%
● Slot: 1.97%
● Blackjack: 1.253%
● Lottery: No house edge
● Roulette: 2.7%
● Minesweeper: 1%
● Keno: 1%
● Video Poker – Jacks or Better: 2.11%
● Video Poker – Tens or Better: 2.08%
● Video Poker – Bonus poker: 2.09%
● Plinko – Green ball: 1.63%
● Plinko – Red ball: 1.84%
● Plinko – Blue ball: 1.52%
● Plinko – Yellow ball: 1.56%
Please note that these percentages represent the average long-term advantage the house has over players.
Slots
The only slot that you can play here is the "Slot" game by Crypto.games casino. To find this game, click on the "Change Game" button, and select Slot. As you will see, there is only 1 game on which you can bet anywhere from 10 to 5,000 credits. The maximum that you can win in this game is 10,000x your base bet of the game. Also, the RTP of the Slot game is 99.
Jackpot Games
Unfortunately, there are no Jackpot games at Crypto.games casino. However, if you like to test your luck and win huge prizes, we advise you to take a look at the Lottery game at Crypto.games!
Table Games
If you are into table games, you might not be impressed with the availavble selection. At this moment, there are only 2 games that fall in that category. We are speaking of Blackjack and Roulette, which are some of the most famous casino games in the history of gambling!
Live Casino Games
Unfortunately, at this moment, there are no live casino games at Crypto.games casino. So, if you are up for a live casino experience we advise you to create an account at some other casino.
Sportsbook
Crypto.games is a gambling platform where you can place wagers on casino games. That means that you won't be able to place sports bets on your favorite sports teams.
Crypto.Games Website and Design
When you first land on Crypto.games casino's homepage, you are immediately drawn in by its clean design and intuitive layout. On the homepage, you will find Blog, FAQ, and Play Now buttons, inviting you to delve deeper into the world of Crypto.games. To start playing, simply scroll down a bit and select your desired game, then choose your preferred cryptocurrency. The games are neatly displayed and easy to navigate, making it quick and straightforward to dive into the action.
The top bar of the website acts as your personal command center, providing quick access to key features and information. The "Selected currency" button, which also serves as a convenient shortcut back to the homepage, is located here, along with your balance display. The "Change game" and "Change coin" drop-down buttons allow you to easily switch between different games and currencies. For assistance, the "Help" button opens the live chat widget, connecting you directly to the customer support team. Another feature includes a Dark/Light theme switch for customized viewing comfort. Also, the "Your Account" button gives access to Deposit, Exchange, Withdraw, Rewards, Contests, Info, and Settings buttons.
At the bottom of the page, you'll find more useful resources and links. This includes the Live Chat feature for immediate assistance and the FAQ section for quick answers to common queries. The 'Self Exclusion' option is also available for those seeking to manage their gambling habits. For a deeper insight into the casino's operations and community, links to the 'Blog' and 'Forum' are provided. Lastly, the casino's social media channels and license info are conveniently located here, ensuring transparency and providing multiple channels for communication. All in all, Crypto.games casino's website is thoughtfully designed to provide a user-friendly experience, allowing you to focus on enjoying your gaming sessions.
Mobile
Crypto.games casino takes full advantage of the simplicity of mobile technologies in the modern day, allowing players to enjoy their games whenever and wherever they choose. The casino has taken into account the need for mobile entertainment by making all of its games suitable for usage on smartphones and tablets.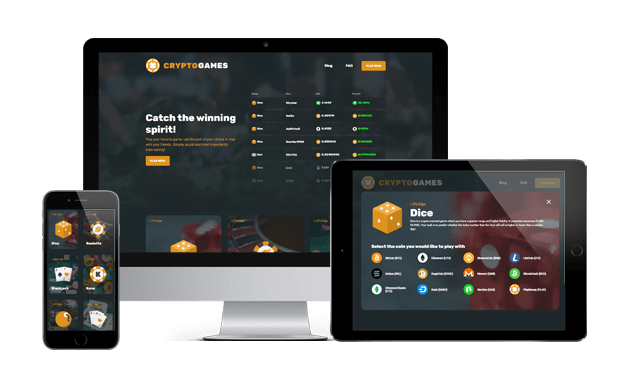 The best thing about the ease of the procedure is that no additional apps or software need to be downloaded or installed. After signing into the service via the browser on your mobile device, you may immediately begin making use of it. The gaming experience is as fluid and exciting as it would be on a desktop PC. The site's compatibility with all devices guarantees a delightful gaming experience regardless of when or where you access it. It's important to keep things simple, effective, and, most of all, fun.
Payment Methods
At Crypto.games casino, you will be able to make deposits with the following cryptocurrencies:
● Bitcoin
● Binance Coin
● Litecoin
● Solana
● Dogecoin
● Monero
● Ethereum Classic
● Bitcoin Cash
● Dash
● Neogas
Min & Max Limits for Deposit and Cashouts
You can check the transactional limits at Crypto.games casino below.
Minimum deposit limits:
● Bitcoin – 0.0001 BTC
● Ethereum – 0.01 ETH
● Binance Coin – 0.01 BNB
● Litecoin – 0.01 LTC
● Solana – 0.001 SOL
● Dogecoin – 20 DOGE
● Monero – 0.01 XMR
● Ethereum Classic – 0.02 ETC
● Bitcoin Cash – 0.001 BCH
● Dash – 0.01 DASH
● Neogas – 0.02 GAS
Max deposit limits:
There are no maximum deposit limits at Crypto.games casino
Minimum withdrawal limits:
● Bitcoin – 0.0001 BTC
● Ethereum – 0.01 ETH
● Binance Coin – 0.0846496 BNB
● Litecoin – 0.294 LTC
● Solana – 1.2598 SOL
● Dogecoin – 366 DOGE
● Monero – 0.1734 XMR
● Ethereum Classic – 1.438 ETC
● Bitcoin Cash – 0.22667 BCH
● Dash – 0.6146 DASH
● Neogas – 9.6936 GAS
Maximum withdrawal limits:
There are no maximum withdrawal limits at Crypto.games casino
Speed of Processing Payments
Crypto.games casino places a strong note on efficient payment processing, which guarantees a seamless and enjoyable experience for their players. As the casino exclusively deals with cryptocurrency transactions, deposits are virtually instantaneous. This enables you to fund your account rapidly and dive right into playing your favorite games without any delays.
When it comes to withdrawals, Crypto.games makes every effort to process them as quickly as possible. Although it may take a few hours for the transactions to be finalized, the casino's primary goal is to ensure that players receive their winnings in a timely manner. It is important to note that the transaction speed also depends on the fee selected by the player when making the withdrawal request. The higher the fee paid by the player, the faster the funds will be received. Crypto.games casino's commitment to swift payment processing, along with the added convenience of using cryptocurrencies, makes it an outstanding choice for those seeking a hassle-free gaming experience.
Account Registration
To start playing at Crypto.games gambling platform, you will need to click on the yellow button "Play Now". Next, you will have to select the currency in which you will like to play (don't worry, you can change it later). Then, on the page that opens, click on the Register button, enter your nickname, agree to the terms, and solve the captcha before clicking on Register. By doing so, you will have an account at Crypto.games and you can start gambling on your favorite games.
Verification
At Crypto.games casino, players can enjoy a gambling experience without the need for initial verification. This means that you can simply deposit your cryptocurrency, choose from a variety of casino games, and start playing right away. The majority of players can also make withdrawals without having to submit any documents.
However, it's important to note that Crypto.games reserves the right to request a KYC procedure at any time. If this occurs, you will need to verify your account by providing the necessary documents. We are speaking of government-issued identification and proof of address, among other things.
Self-Exclusion & Limits
Crypto.games casino is dedicated to promoting responsible gaming and ensuring the safety of its players. Recognizing the importance of assisting players who may be experiencing compulsive gambling behavior, the casino offers a few options to help maintain control over their gambling activities. Instead of setting gambling limits, players can opt for self-exclusion by contacting the casino's support team via email.
Self-exclusion is a measure that allows players to voluntarily exclude themselves from gambling activities for a set period of time. At Crypto.games, players can choose to take a short break from gambling by implementing a "Time Out." This feature allows players to suspend access to their CryptoGames account for 1 to 30 days, during which they will be unable to access any games on the website. The chosen time-out period cannot be reversed once it is in effect. For those who feel they need a longer break, Crypto.games also offers a self-exclusion option. Self-excluding means that the player's CryptoGames account will remain closed for a minimum of six months, one year, three years, or five years, and cannot be reactivated during this period.
Customer Support
Crypto.games takes pride in its professional customer support team, which is always ready to assist players with their inquiries or concerns. There are several ways to reach the casino's customer support, making it easy for players to find the help they need. The available support methods are:
● Write an email message: To get in touch with the support team, simply send an email to support@crypto.games. The team will receive your message and respond as soon as possible. Keep in mind, though, that this might not be the fastest way to get help.
● Read the FAQ: For quick answers to common questions, click on the "FAQ" button located at the bottom of the page. This section covers various topics such as account management, bonuses, deposits, and more.
● Speak with a live chat agent: To connect with a live chat agent, click on the "Contact Us" button in the bottom left corner, followed by "Live Chat." After submitting your question, you'll be connected to an agent within seconds. The live chat support is available 24/7, ensuring that every player receives timely assistance whenever needed.
Security and Licenses
CryptoGames is a reputable online casino owned and operated by MuchGaming B.V., located at Fransche Bloemweg 4, Willemstad, Curacao. The casino holds a valid gaming license (No. 8048/JAZ) issued by Antillephone, and it is authorized and regulated by the Government of Curacao.
Players at CryptoGames can further enhance their account security by setting up 2FA (two-factor authentication). To do this, simply go to Your Account, select Settings, navigate to Security, and click on Add 2FA. CryptoGames ensures its trustworthiness by maintaining a valid gaming license and employing the latest SSL certificates for the protection of its players. Additionally, the casino offers a range of Provably Fair games with fixed RTPs, allowing players to verify the fairness and randomness of each game outcome.
---
Conclusion – Cons & Pros
In conclusion, Crypto.games casino offers an engaging and secure gaming environment on a user-friendly site. With the monthly wagering contests, weekly promotions, and an exclusive VIP program, players have multiple reasons to join and enjoy their time at the casino. However, it's essential to weigh both the positive and negative aspects before making a decision. For example, the very limited amount of games.
Pros:
● Good customer support available through multiple channels
● No maximum deposit and withdrawal limits
● Exciting monthly wagering contests
● Exclusive VIP program with numerous benefits
● Trustworthy, licensed, and secure platform with SSL certificates and Provably Fair games
Cons:
● No sportsbook available for sports betting enthusiasts
● Limited promotions compared to other casinos
● Limited game selection compared to larger online casinos