PlayHugeLottos: Crypto Lottery Website Review
PlayHugeLottos provides a convenient way to play lotteries online using cryptocurrencies or fiat money. Ten language versions of the website open up access to bitcoin lotteries for players from all over the world. PHL users can buy lotto tickets with BTC and participate in such popular lotteries as Powerball, Mega Millions Max, EuroMillions, and many others.
The website was created in the late 1990s, which makes it one of the longest-running projects in the industry. The crypto community remembers PlayHugeLottos.com as the first lottery tickets vendor to allow its users to take part in various lotteries using Bitcoin.
First ever bitcoin lottery
Free US POWERBALL ticket!
PlayHugeLottos bonuses
PlayHugeLottos does have several promotions for its users. Right now, those who like to play lotto using bitcoin can get a free lottery ticket as part of the welcome bonus. All you need to do is make your first purchase on the website within 12 days after the registration.
A free lotto ticket will be automatically added to your user account. It allows you to take part in the world's biggest lottery, US Powerball. This way, the registration on the website and your first BTC lottery ticket purchase will provide you with a chance to snatch a huge jackpot. As you may know, Powerball lottery jackpots can reach up to $1.6 billion!
Cryptocurrency lotteries and special deals
If you visit the bitcoin lottery website PlayHugeLottos on a regular basis, you will always be among the first to find out about time-limited promotions. Sometimes they are dedicated to a certain event like a holiday. One of the recent promos made it possible to buy lotto tickets with bitcoin at a 15% discount.
Special deals at Play Huge Lottos allow you to save money from time to time while taking part in crypto lotteries. These deals include a bundle of five tickets for the biggest lotteries. Buying such a bundle in one click, you get a discount of up to 22%. The website announces its exclusive promotions on its Twitter and Facebook accounts.
More free tickets for bitcoin lotteries
A welcome bonus is not the only way to get a free bitcoin lotto ticket. This platform also has good old «three for two» offers. Only recently, there has been a promo that allowed users to get a SuperEna Max voucher for free, provided that they buy four Powerball Plus tickets first.
Apart from that, PlayHugeLottos has its own version of a loyalty program with special loyalty points. A number of these points are awarded each time you buy a lottery ticket and each time you leave a comment in the news section. The amount of lotto points depends on a lottery: while a UK Lottery ticket brings you 81 points, an El Gordo Navidad ticket is going to get you as many as 955 points.
Earning these points, you will get new loyalty levels as well. Starting from the Silver level, you can exchange lotto points for free lottery tickets. The higher your loyalty level, the more points, and tickets. Free vouchers are valid for 180 days.
PlayHugeLottos referral program
Bitcoin lottery players can tell their friends about this website and get a nice compensation for each new user they recommend. All you need to do is provide your friend's email address and name in the special form on the website. This person will get an email with the invitation.
As soon as your referral makes their first purchase on bitcoin lotto website PlayHugeLottos, you will get a confirmation email and five free tickets for the SuperEna Max lottery. This bonus will be given to you for each new user that decides to make use of the website on your recommendation.
Deposits and withdrawals
PlayHugeLottos.com accepts deposits from credit cards (VISA, Virtual VISA, MasterCard), via electronic payment systems or wallets, and through bank transfers. Furthermore, you can top up your account balance using WebMoney, Skrill, PaySafe Card, Euteller, and other methods.
The crypto community is not left aside: platform Play Huge Lottos allows its users to make deposits in Bitcoin. This way, they can buy tickets for the most popular lotteries in the world with cryptocurrency.
What you should know about deposits
Important: if you make a deposit on your online account, you can no longer withdraw this money. It is impossible to withdraw funds from the PlayHugeLottos deposit balance! You can use them solely to pay for your orders, that is, to buy lottery tickets.
It is not necessary to make a deposit though, as you can place an order and pay for it directly through a checkout page and payment gateway, just like with other online purchases. You can use VISA and MasterCard credit cards and e-payment system Neteller for that purpose.
How to withdraw you BTC lottery winnings
If you win a bitcoin lottery, you can withdraw this money via a bank transfer. All you need to do is fill out a brief form and provide your banking information. You can also withdraw such funds via Neteller or WebMoney.
The platform does not allow you to withdraw winnings to credit cards.
First bitcoin lottery website
Quick fact: PlayHugeLottos.com was one of the first gaming websites that ventured to accept Bitcoin and other cryptocurrencies as a form of payment for their services.
In the late 2014, platform PlayHugeLottos announced its partnership with GoCoin, a payment gateway facilitating crypto payment processing. It made PHL the first bitcoin lottery tickets vendor. It started accepting two other cryptocurrencies — Litecoin and Dogecoin — as well.
PlayHugeLottos bitcoin lotteries
Crypto lotto website PlayHugeLottos allows you to buy tickets for all sorts of lotteries. You can select numbers in a voucher on your own, or you can rely on an automated number generation system.
Here are several cryptocurrency lotteries with their current jackpots:
• El Gordo Navidad: €2.38 billion
• Mega Millions Max: $350 million
• Powerball Plus: $261 million
• Powerball: $168 million
• Mega Millions: $165 million
• EuroMillions: €64 million
• EuroJackpot: €45 million
• Lotto 6aus49: €30 million
Furthermore, users can buy tickets for SuperEna Max, SuperEnaLotto, Oz Lotto, France Loto, La Primitiva, El Gordo, Mega Sena, Oz Powerball, and UK Lottery. Jackpot amounts are not the only things that matter. Be sure to pay attention to the frequency and amounts of winnings in one or another bitcoin lotto.
Lottery numbers generator
Filling in your lotto play slip, it is natural that you want to choose the numbers on your own. They can be your «lucky» numbers, important dates, or pure intuition. It is more fun to play lottery this way, and it would be tremendous if you do win.
However, you might have a hard time filling in many vouchers at the same time. Some crypto lottery enthusiasts buy tickets in dozens! In that case, manual selection of numbers is going to be frightfully tedious, not to mention the wasted time.
It is exactly why bitcoin lotto website PlayHugeLottos has a quick pick option. It is available when you select the numbers in a lotto ticket. Clicking on the «Quick Pick» button, you will get a set of randomly generated numbers and be able to use them in your play slip.
The quick pick option makes playing bitcoin lottery much faster, especially if you have to fill in more than one slip.
PlayHugeLottos blog and news
This website often posts fabulous stories about lottery winners, as well as luxurious ways to spend your bitcoin lotto winnings. There are also important news from the world of online gambling and related stuff.
More importantly, there are also some useful guides for crypto lottery players. These materials tell you about the correct way to buy lottery tickets, what to do if you win a cryptocurrency lottery, which lotteries may be best for you, and so on.
Security and customer support
PlayHugeLottos.com provides lottery ticket vendor services under the license of Curacao. The company respects the privacy of its users, so it gives a detailed explanation on how and why it collects personal data. It also takes all reasonable measures to ensure the privacy and security of their data and funds.
If you win money in a lottery, you will learn about that in one of two ways:
• In an email, if your winnings are £200 or less
• In a phone call, if your winnings are more than £200
In case of large winnings, the representatives of the platform contact the user directly in order to ensure that the funds get to this person as soon as possible and without trouble.
You can request a callback from the PlayHugeLottos support team. They will call you using a number in your user profile. You can also contact a support rep instantly by choosing the «Live Support» option on the «Contact Us» page.
PlayHugeLottos on mobile devices
The mobile version of PlayHugeLottos.com is notable for being more convenient than the standard web version of the platform. It provides easier access to almost all sections of the website and highlights cryptocurrency lotteries.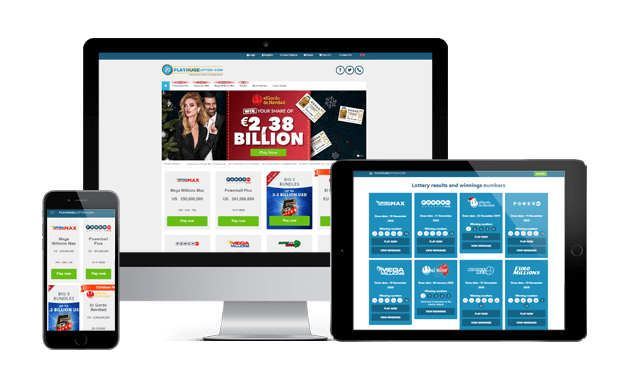 A big advantage of Play Huge Lottos on smartphones and tablets lies in its sidebar menu. With it, you do not have to rely on your intuition trying to find the section you need in the header or footer. It has quick access not only to bitcoin lotteries and raffles, but also to the latest draw results, live support chat, profile options, and so on.
---
PlayHugeLottos pros and cons
Being somewhat old and inconvenient, the design of the website is its main shortcoming. The desktop site looks quite complicated and chaotic. It is especially critical for inexperienced users. You have to go through many pages until you find the FAQ or promotions section on the website.
As for the advantages of bitcoin lotto site PlayHugeLottos.com, they are as follows:
1. Ability to play lotteries using cryptocurrency
2. Wide range of lotteries and raffles
3. Discounts for lotto tickets
4. Free tickets promotions
5. Loyalty program
6. First-rate customer support
7. Great mobile version of the platform
8. Interesting articles in the blog
9. Fully licensed operations
PlayHugeLottos will be a great choice for all sorts of crypto lottery enthusiasts. Its special deals and loyalty program makes purchasing lottery tickets using bitcoin much cheaper. You can even check your lottery horoscope while you are waiting for the results of the next draw!