Provably Fair Games on crypto – Dice, HiLo, Limbo
Wolf.bet is a relative newcomer in the cryptocurrency casino industry, but in the year and a half it's been online the website seems to have attracted a genuine and supportive community who appreciate the social aspects that it provides. Wolfbet itself is not a casino so much as a dice site. For the first half of its existence, Wolf.bet offered only a simple dice game, albeit with a low house edge. It has since added two additional, proprietary games, and will likely grow more in the future. Although it is perhaps overly simplistic, Wolf.bet gets credit for being unique and developing a reputation of being a trustworthy, fair operation.
Advanced Dice Game
Daily Races with $1,000 prizepool and 30% rakeback!
Wolf.bet Bonuses
Unlike most other crypto casinos, Wolf.bet does not offer any sort of welcome or deposit bonuses; nor do they offer free spins (as they do not possess any slots games). What they do offer are several different types of promotions, with their one bonus-like feature being their 7-Day Streak, in which users log in each consecutive day to win small bonuses that increase in size with each passing day (up to 7 days before it starts over).
Promotions
Wolf.bet offers a few ongoing promotions and bonus promotions, as well. The best way to find out about their current and upcoming promotional offerings is to check their social media accounts (Twitter, Telegram and Bitcointalk are the most active).

Currently, Wolf.bet has different promotions like a 7-Day Streak, where players are rewarded with daily prizes, a Daily $1000 Wolf Race contest where one player who has accumulated the most bet totals by a randomly assigned time of day can earn $1000 in bonus prizes. Other types of promotions include regular Twitter giveaways, special offers only made through other social media accounts, and random giveaways in the community chat.
Loyalty and VIP programs
The VIP program at Wolf.bet is relatively straight-forward: the more bets that are made, the higher VIP levels you reach, and the bigger rakeback bonuses you accumulate. For example, the first VIP level is reached after $10,000 worth of bets (in any coin denomination) has been made. Rakeback increases are given after reaching each new VIP level all the way up to 30% rakeback.
Casino Games in Wolfbet website
As previously mentioned, Wolf.bet only carries 3 casino games, all of which are proprietary (custom-built for the purposes of the website):

---
Dice
A unique take on the classic "dice" game where a number between 1 and 100 is randomly generated, and the user bets on whether the number will land above or below a certain number.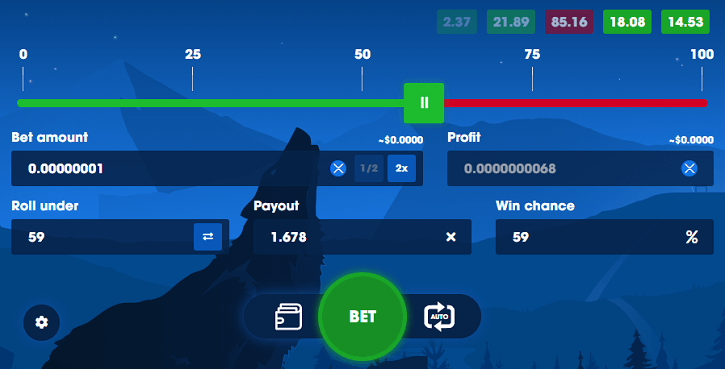 ---
HiLo
This is a cards-based game where the player decides whether or not the next card will be higher or lower than the previous card. Players can also bet on whether the next card will be red or black, or whether a face or numbered card will show up.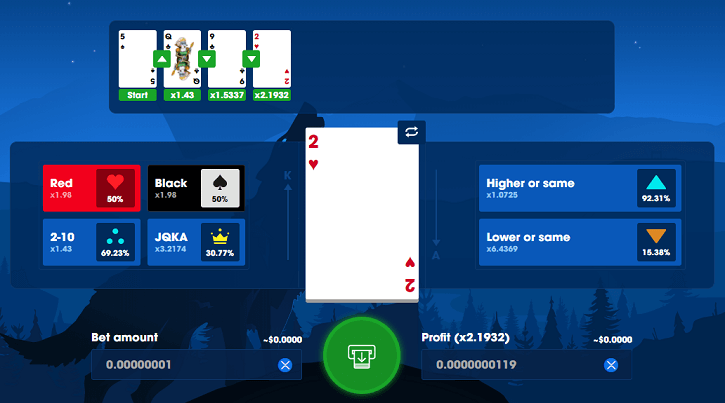 ---
Limbo
Similar to the Dice game but closer to "Crash" variations, where the player bets on a multiplier they think will appear rather than a randomly-selected number.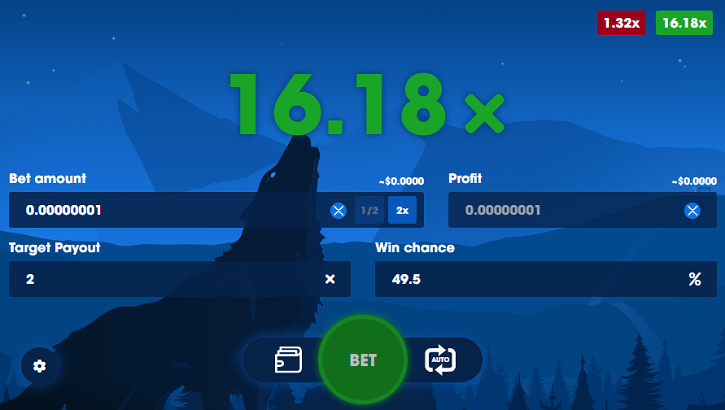 ---
Though the game selection is obviously small, Wolf.bet does allow several different types of bets and auto bets to be made; the latter allowing an automated system of your choice to place bets on your behalf. There are over 30 different conditions that can be used to fine-tune auto bets using Easy or Expert modes. The four basic strategies serving as default automatic bet options include: D'Alembert, Paroli, Martingale, and delayed Martingale. For those who want to conduct a lot of bets at the same time, there is a "flashbet" option that allows up to 1,000 bets to simultaneously be made.
Wolfbet casino experience is enhanced by a vibrant, talkative community which can be followed in the public chat (offered in 6 different languages). Here players converse with each other, get tips, share bets, and participate in "rain" sessions where small amounts of coins are "rained" upon everybody currently in the chat. Both Wolf.bet and individual players are capable of "making it rain," making the chat particularly active at times.
Wolf.bet is unique among other casinos in that it encourages a level of social interaction not ordinarily seen at any sort of online casino. Players can also send each other private messages and follow each other's gambling sessions with ease. In a way, they have aimed to grow a genuine community, which is a good sign that a casino really cares about its customers.
Payment Methods
Wolf.bet is a cryptocurrency-only casino and does not accept fiat currencies, which means there are no fiat deposit options. Cryptocurrency deposits are credited to user accounts upon receipt.
Cryptocurrencies accepted
Wolf.bet accepts the following cryptocurrencies at their casino:
Bitcoin (BTC), Ethereum (ETH), Ripple (XRP), Dogecoin (DOGE), TRON (TRX), Litecoin (LTC), Bitcoin Cash (BCH), Tether (USDT), Stellar (XLM), Ethereum Classic (ETC), Uniswap (UNI), SushiSwap (SUSHI).
There is no minimum or maximum deposit amounts at Wolf.bet, although the withdrawal minimum for BTC is a little bit high, at 0.002 BTC (at today's prices, this is close to $40). Of course, this amount is lower in fiat terms for other coins, as is usually the case with any crypto casino that has withdrawal minimums.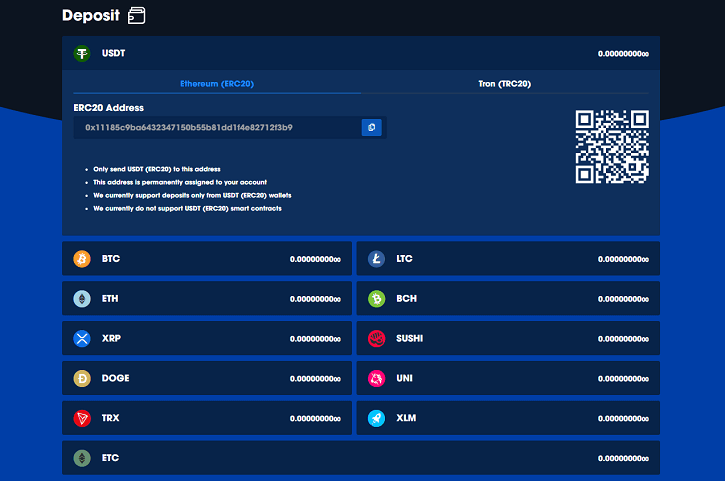 Mobile version
Wolf.bet is highly geared toward mobile device players. Thanks to the simplicity of its website, Wolf.bet is able to offer an awesome, clutter-free mobile version which some users have said is even better than the desktop version. It is quite easy to press all the buttons related to the games, place bets, and access all different parts of the website.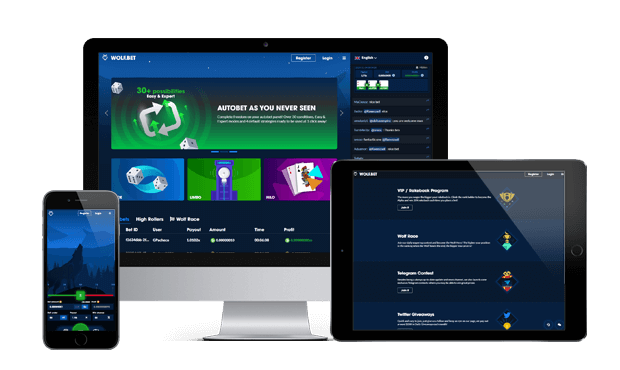 In fact, Wolf.bet offers one of the best mobile versions of any crypto casino or gambling site, which makes it perfect for those who want to gamble on the go.
Customer Support
Wolf.bet customer support can be a bit tricky to contact as it isn't immediately obvious how to get a hold of a representative. At the bottom of the website, there is a chat support icon and there is usually one agent online to answer your questions. Alternatively, you can always ask more general questions in their community chat, which is available in English, Russian, Portuguese, Spanish, Filipino, and Indonesian.
Security and Licenses
Games offered at Wolf.bet are provably fair, meaning their outcome can be determined as fair using tools provided on the website. Not much has been analyzed about the security of their site but in general, it is perceived to be sufficient for its rather limited purposes. As far as user security options are concerned, Wolf.bet employs a standard 2-FA method using Google Authenticator which must be activated before withdrawals can be made.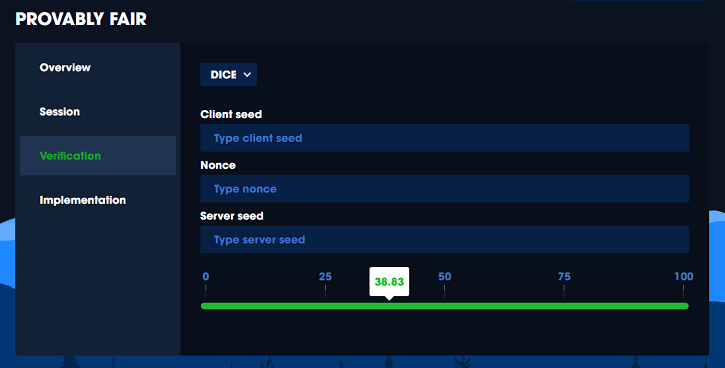 Wolf.bet is operated by HDS Technologies N.V., which is licensed by the country of Curacao to provide gambling services under the 8048/JAZ license. This means that they are required to uphold certain standards of conduct in order to maintain the validity of their license.
---
Conclusion / Pros and Cons
In all, Wolf.bet is a small but creative online casino that places extra emphasis on its ability to draw a community and social interaction. The owners seem to value the support of their customers more than most other casinos, even though they don't offer them generous bonuses or jackpot-sized payouts. If you are looking for a solid dice site with a low house edge (1%) and a reputation for being fair, Wolfbet might be perfect for you. If you are looking for a fully-stocked casino with lots of slots, table games, and live casino games, you'll definitely want to look elsewhere.
This article has been updated on the 12th of February 2021